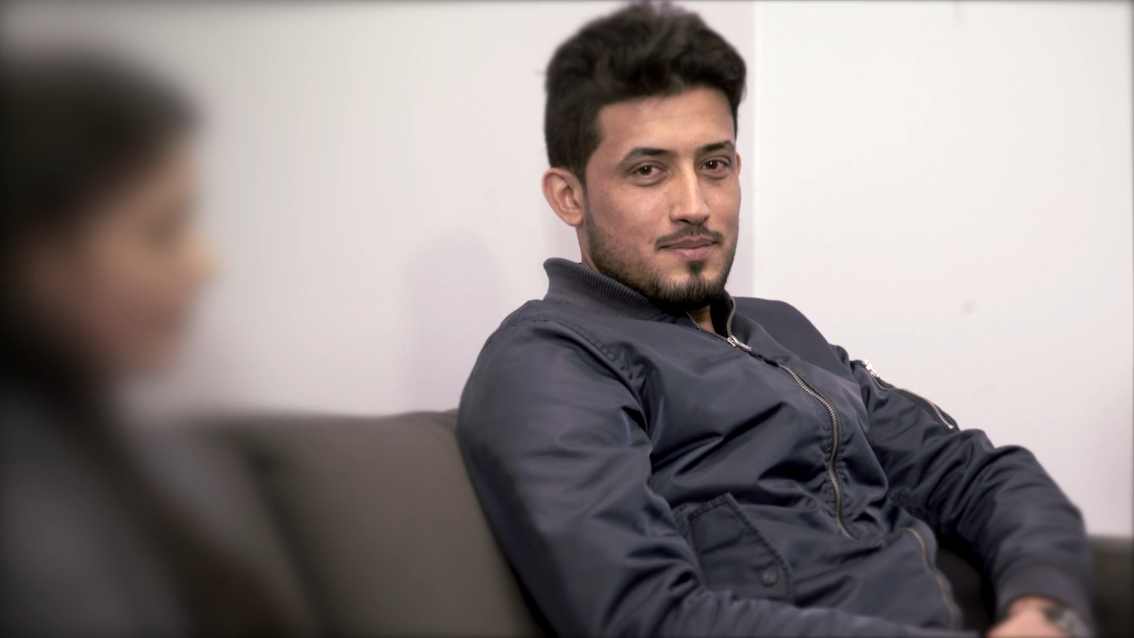 The most recent long film:
Documentary film, 92 minutes.
4K video, stereo sound
Production: Merja Ritola / Greenlit Productions, 2020
Funding: YLE & AVEK

---
What kind of films & videos?

Originally I'm a painter. Then I took up photography, performance art and writing. Then came theatre & dance. Nowadays I share my time with three branches: I write books. I make visual art. And I write and direct theatre, dance and film works. After my doctorate I've also often made works that are meant to be artistic research.

Because of this background some of my old works belong to the category of video art, or media art, or performance-to-the-camera. Some later works are poetry films or essay films or dance films. And the most recent ones are usually some kind of documentary films, informed by my mixed background. My old audiovisual works I made without any budget, as was typical for video art in those days. The more recent ones have been made in collaboration with production companies and funded by YLE (Finnish state television) or equivalent entities.

A bit of history

In many of my first audiovisual works I did painful, silent performance actions in front of the camera. "No acting, do it for real." Perhaps because when I was young I was both very anguished with my own troubles and also very inspired by the early work of Vito Acconci (1940–), Dennis Oppenheim (1938–2011), Chris Burden (1946–2015) and the Viennese Aktionists.
At some point I wanted to escape the painful, durational and masochistic blood-letting and started to make 'soft works' too: for example just speaking poetry to the camera. And versioning a few short plays and poems by Samuel Beckett (1906–1989). I've also made dance videos and some scratch videos too. I hope someone still remembers the term 'scratch' in this context. However, perhaps the style I've used the most is a kind of video essay, where one brings together images, texts and sounds according to a philosophical or poetic logic instead of a narrative one. In that tradition my favorite work is Agnès Varda's (1928–) The Gleaners and I (Les glaneurs et la glaneuse, 82 min, 2000). I'd like everyone to see that work, but I hope many will also see my works.

The shortest of my films & videos lasts 2 minutes, the longest 92 minutes. One of them is a video installation with two channels. All the others are single channel works and can be shown also in cinemas, festivals and on television, not only in exhibitions.

I have also often used fragments of these works in my theatre and dance works, as projections on stage.


Distribution
Most of my films and videos are distributed by
AV-arkki
, the Finnish media art archive and distribution center. However, the most recent one is distributed by
Greenlit Productions
.
My profile in AV-arkki's website
is quite informative introduction to my audiovisual works. My own page here, on my own website, is another. Some of the info is overlapping, but both sources can be useful.
I don't want to share my audiovisual works online for free. I prefer real screenings and exhibitions and want to keep some kind of control of my output as well.
However, for preview purposes AV-arkki or me can provide links and passwords for curators and festival organizers.
MADNESS AND CIVILIZATION
/
HULLUUS JA YHTEISKUNTA
(2014, drama documentary film, 56 min)
Woman and Meat Industry
/
Nainen ja lihateollisuus
(2011, video art / performance video, 7 min)
Who Is Who? / Kuka kukin on?
(2006–2010, poetry video / video art, 2 min)
Why? / Mitä varten?
(2009, poetry video / video art, 6 min)
Mortal / Kuolevainen
(2006–2007, essay film / video art, 51 min)
Kaliki
(2004–2007, dance film / music video / video art, 5 + 5 + 5 min)
Elevator Dance 1 & 2 / Hissitanssi 1 & 2
(2003–2004, dance film / video art, 7 + 7 min)
Itäkeskus Dancing Tree
(2002–2004, dance film / video art, 14 min)
People Appear from Nothing
(2003, video art / essay film, 30 min)
Love Flies so High, beyond the Reach of Human Mind
/ Rakkaus liitää ihmismielen tavoittamattomissa
(2003, poetry video / video art, 6 min)
Rikki (Broken / Sulphur)
(2000, video installation art, 80 min)
Milk / Maito / Mjölk
(1998, video art / essay film, 9 min)
Come and Go / Kommer och går
(1998, short film, 6 min)
As It Is (
Family Values of a couple of murderers, part three, with Pirjetta Brander)
(1997, video art, 6 min)
The Motherhood Itch (Family Values, part two, with Pirjetta Brander)
(1997, video art, 14 min)
Schicsallssymphonie (Family Values, part one, with Pirjetta Brander)
(1997, video art, 10 min)
The Sacred Dishwater
/ Pyhä
tiskivesi
(1994–1996, video art / essay film, 22 min)
My Way, a Work in Progress
(1988–1995, video art, 90 min)
In a Dream I Fucked My Grandmother
(1995, poetry video / video art, 5 min)
A Poem for Jonah
/
Runo Joonalle
(1995, poetry video / video art, 13 min)
Whore and Exploit
(1995, video art, 62 min)
Ein Tod Folgt dem Andern
(1994, music video / video art, 6 min)
The Shipping Crate
(with Roi Vaara)
(1992, documentary of a performance tour, 17 min)
Santa-Maria Furiosa (with Sanna Kekäläinen & Ilkka Sariola)
(1991, dance film, 52 min)
Joe
(1990, short film, 24 min)
Tapio
(1990, video art / music video, 12 min)
Concept of Happiness
(1990–1991, poetry video / video art, 3 min)
My Way (1990)
(1990, video art, 7 min)
Ohio Impromptu
(1989–1990, video art / short film, 12 min)
Anovisio Telerexia (with Ilkka Sariola)
(1990, video art / performance video, 6 min)
The Good Friday
(1989, video art / performance video, 9 min)
Money to Burn (1989)
(1988, video art / performance video, 12 min)
Sex and Death
(1988, video art / performance video, 30 min)
---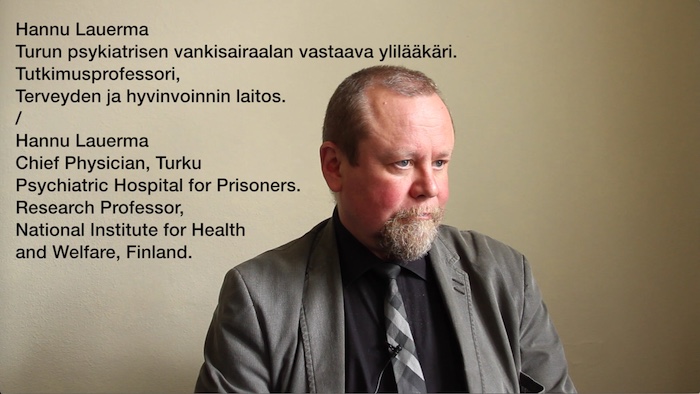 ORDINARY KILLING
/
TAVALLISTA TAPPAMISTA
Extracts from an interview with Hannu Lauerma, 17.4.2015.
With music by
Antti Auvinen
.
Directed by Teemu Mäki.
15 minutes, 2016, Full HD
Subtitles: English & Finnish.
This work is related to Antti Auvinen's opera
Autuus / Bliss,
which I directed in Helsinki Music Centre in August 2015.
The music of the film is the 3rd Act music from the opera
and most of the video material in the film is also footage
originally shot for and used in the staging of the opera.
(No public screenings yet, premiere forthcoming.)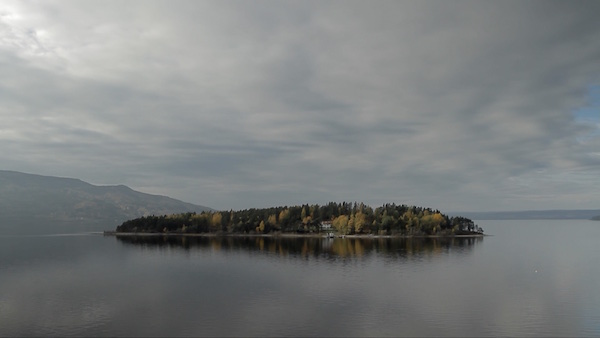 MADNESS AND CIVILIZATION
/
HULLUUS JA YHTEISKUNTA
Film version of a radio play.
Radio play written by Harri Virtanen.
Radio play directed by Juha-Pekka Hotinen.
The film scripted and directed by Teemu Mäki.
Cinematography and editing by Anton Verho.
Commissioned by YLE Radioteatteri
(Finnish Broadcastin Company) in 2014.
56 minutes, 2014–2015, Full HD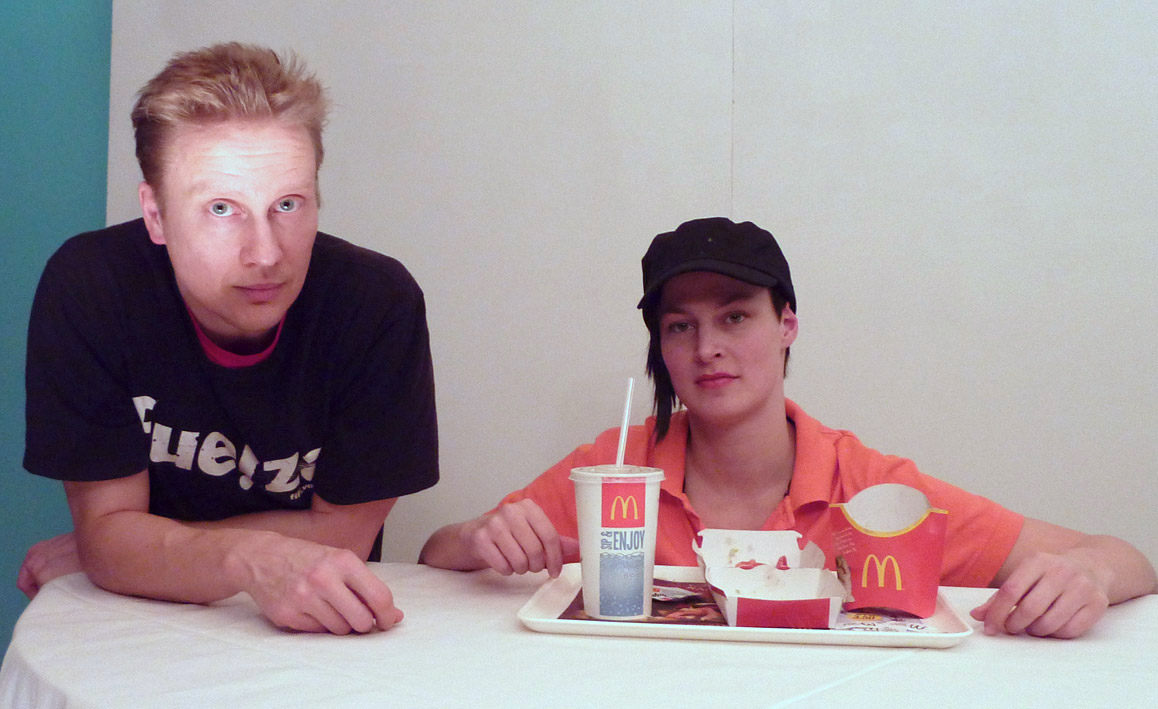 WOMAN AND MEAT INDUSTRY
by Helena Kärkkäinen
A video by Teemu Mäki ("Helena Kärkkäinen").
Originally made for the theatre play
Viha Sydämessä,

directed by Anni Ojanen & Juhan Ulfsak in
Teatteri Jurkka
.
However I also meant the video to be also an autonomous work.
Actress/performer: Lotta Lehtikari.
Camera Mikko Kamunen. Edit Mikko Kamunen & Teemu Mäki.
Director Teemu Mäki.
6 min, 30 sec, 2011.
Click on the picture to watch a short sample.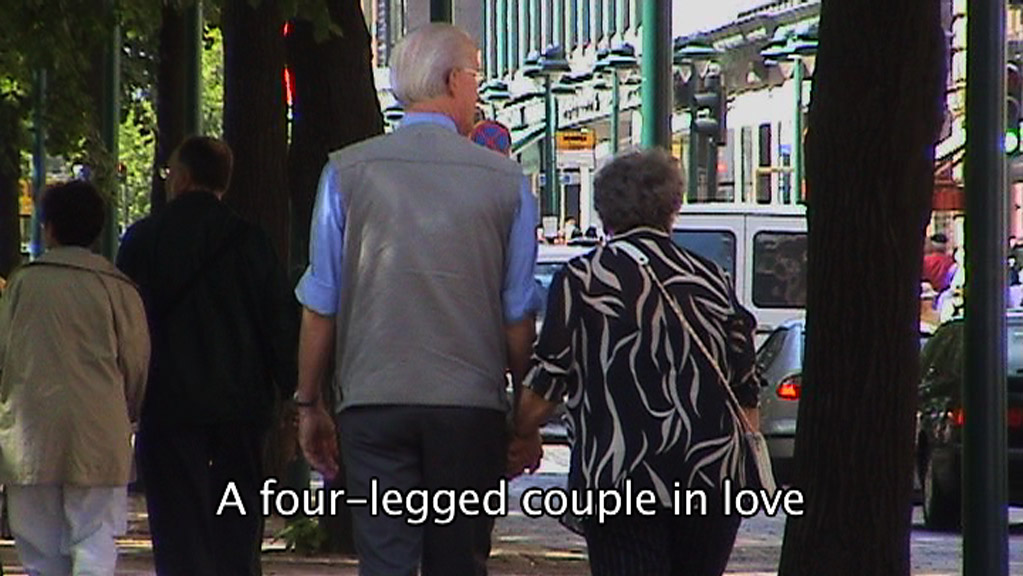 WHO IS WHO? / KUKA KUKIN ON?
In collaboration with Aune Kallinen & group of 8 teenagers.
Based on a poem by
Väinö Kirstinä
.
1 min, 38 sec, 2006–2010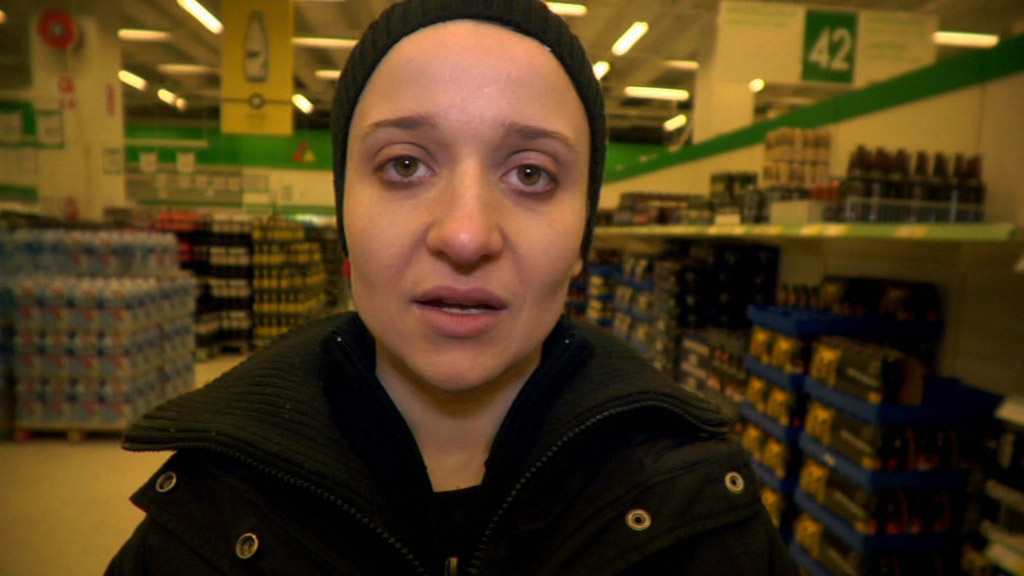 WHY / MITÄ VARTEN?
In collaboration with Noora Dadu and Mikko Manuel Kamunen.
5 min, 21 sec, 2009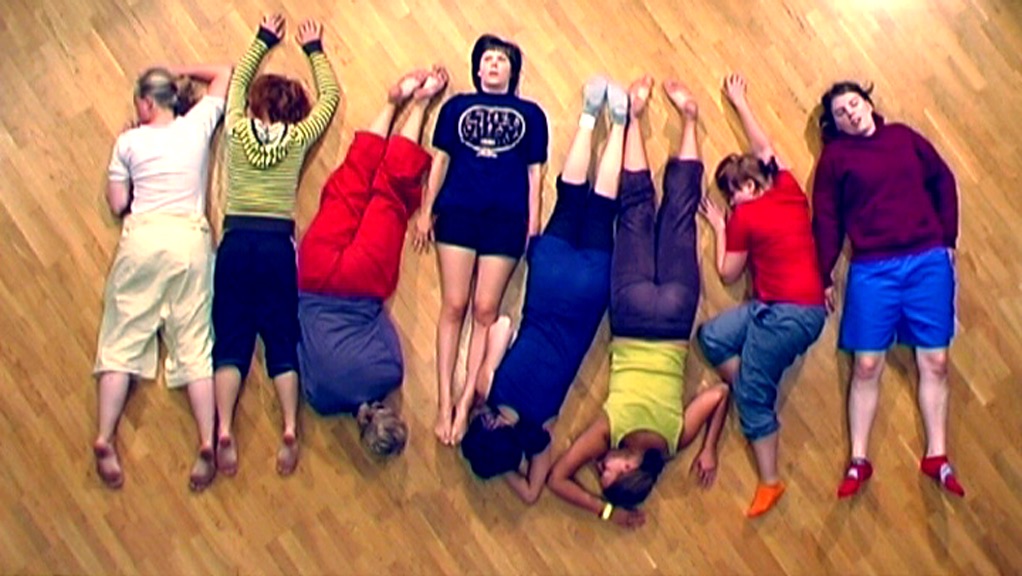 MORTAL / KUOLEVAINEN
In collaboration with
Aune Kallinen
and a group of teenagers
52 minutes, 2006–2007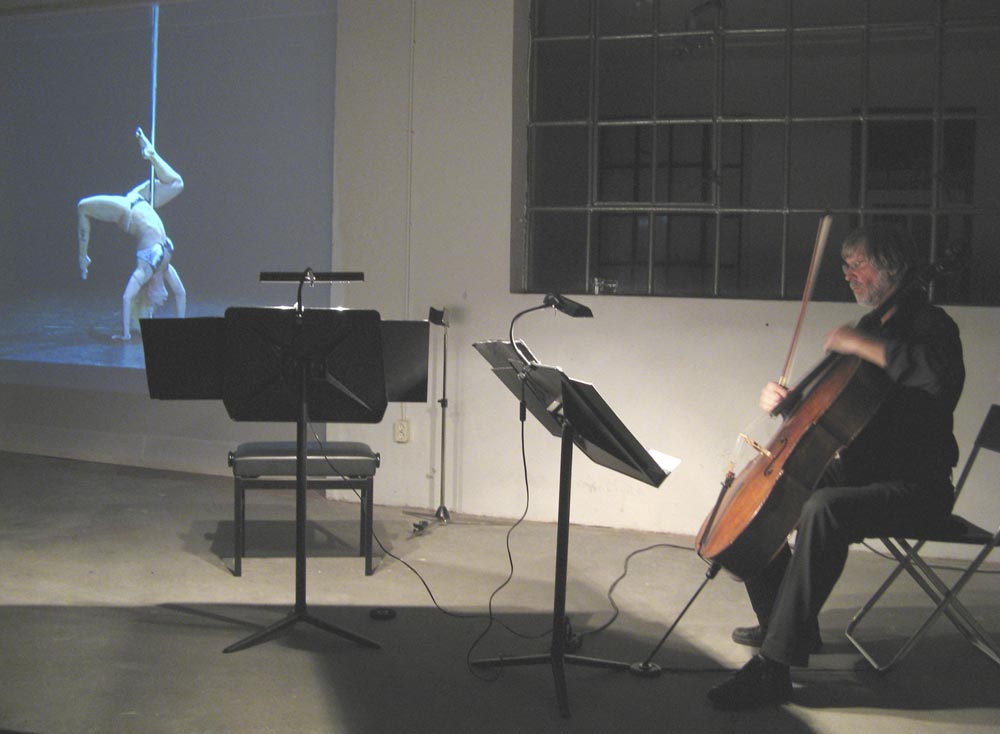 KALIKI
In collaboration with the composer
Max Savikangas
.
Based on his composition
Kaliki
.
15 minutes, 2004–2007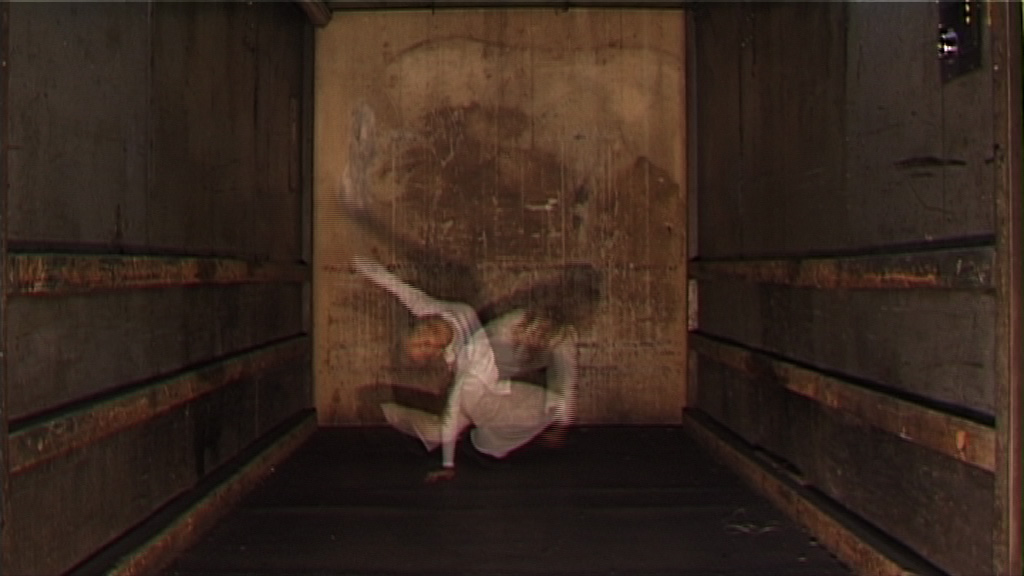 ELEVATOR DANCE 1 & 2 / HISSITANSSI 1 & 2
In collaboration with
Päivi Rissanen
and
Pia Karaspuro
.
6´30 minutes each, 2003–2004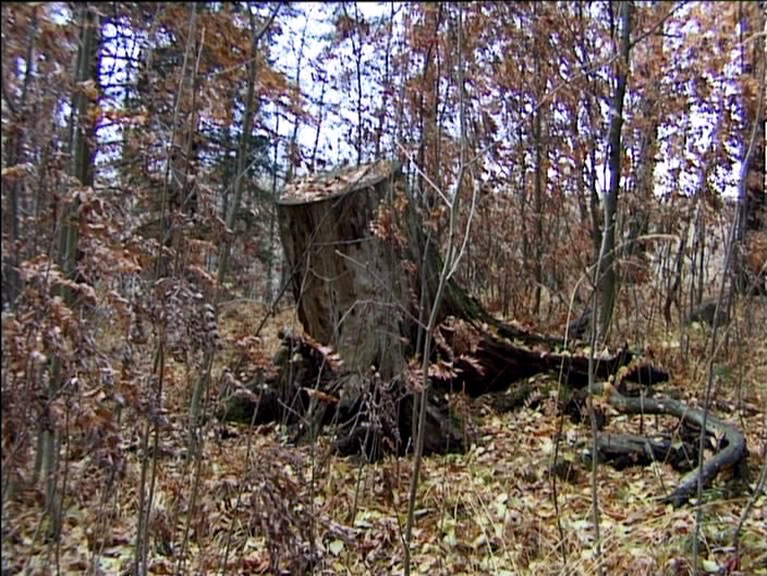 ITÄKESKUS DANCING TREE
A collaboration
with
Pia Karaspuro
,
Jouko Kyhälä
,
Outi Pulkkinen
&
Päivi Rissanen
.
13´30 minutes, 2002–2004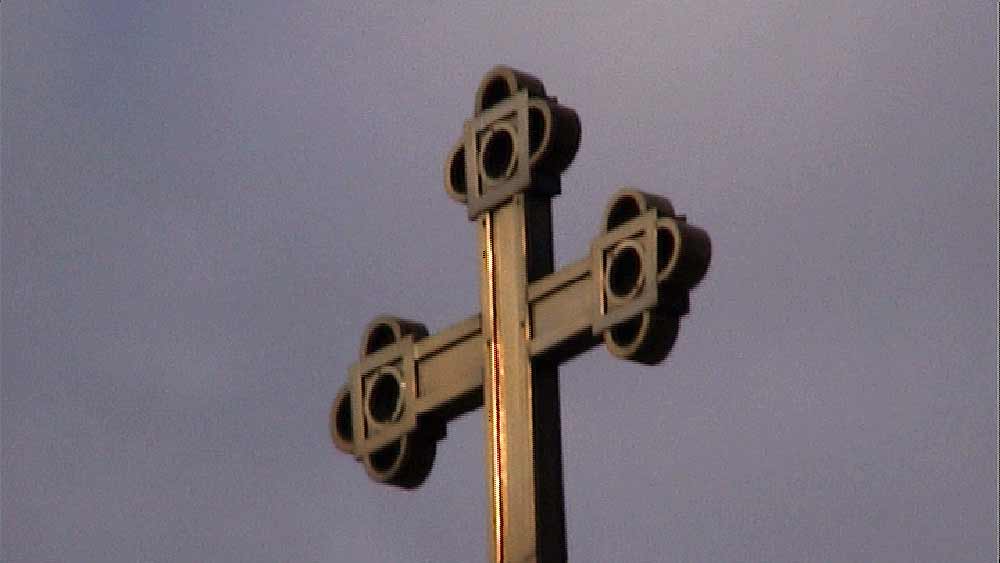 PEOPLE APPEAR FROM NOTHING
(number one of
The Leningrad Essays and Poems
)
30´20 minutes, 2003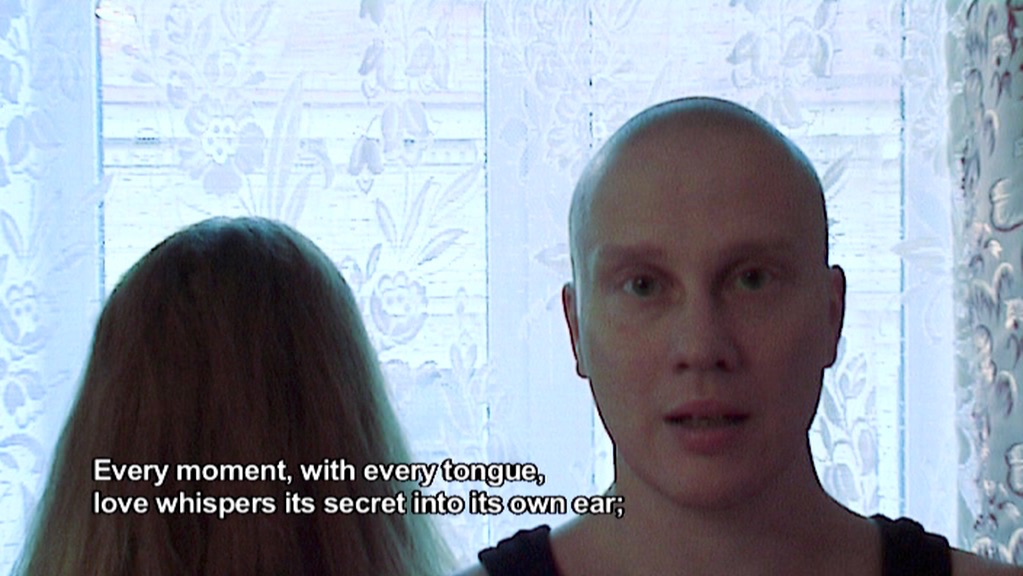 LOVE FLIES SO HIGH, BEYOND THE REACH OF HUMAN MIND
(number two of the Leningrad essays and poems)
/

RAKKAUS LIITÄÄ IHMISMIELEN TAVOITTAMATTOMISSA
(osa kaksi sarjasta esseitä ja runoja Leningradista)
Finnish/English/Russian
5´33 minutes
2003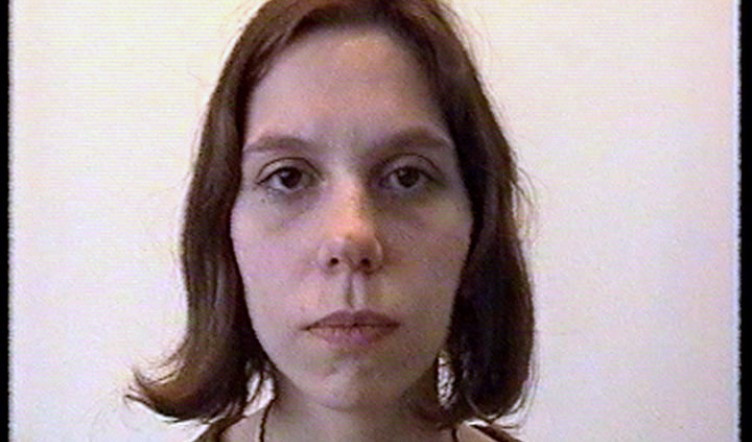 RIKKI (BROKEN/SULPHUR)
A video installation, two tapes & screens, 80 minutes, 2000.
This was first shown in Kari Kenetti's gallery and then later
in my doctoral exhibition at Helsinki Art Hall, 2002.
The work is not available anymore, unless I decide to update it at some point.


MILK / MAITO
In collaboration with
Anja Bargum
and
Åsa Wallenius
.
9'50 min, swedish version,
Mjölk
, 9´00 minutes, 1998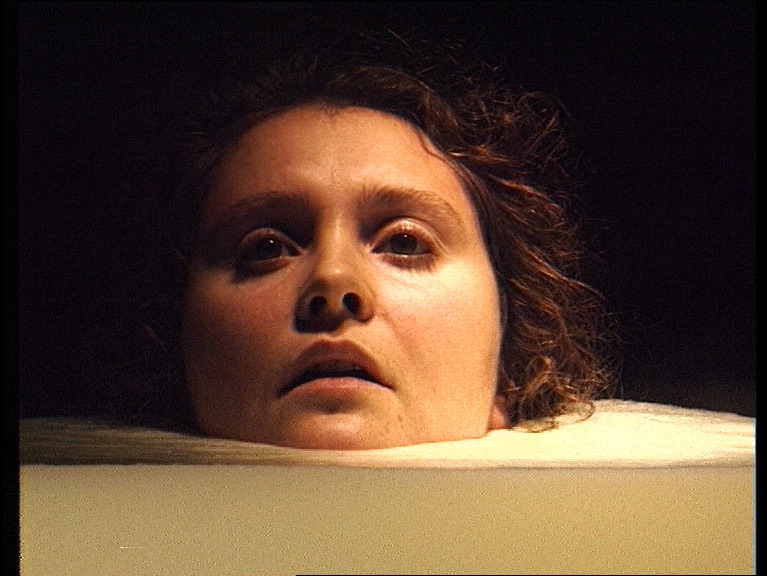 "Somebody starves to death somewhere, somebody else feasts in luxury somewhere else, what is their relation? If the luxury is there at the expense of the starved, does it automatically cause guilt in the mind of the exploiter? If the feeling of guilt does arise, does the luxury lose its taste? If the guilt, experience of it, does not arise, is the exploiter emotionally numb? To be without guilt, is it to be unable or unwilling to feel in general? Can one have the guilt, suffer from it, and yet whenever the time is right just switch to another mode and willingly enjoy feasting at the expense of others? Somebody is dying of hunger, on the other side of the TV-screen, somebody else is feasting, on this side of the TV-screen, this is a fact. Who is hurt by this? The one who dies of hunger. The one in slave labor in a sneaker factory. What about me? Who benefits from this? The owners of the sneaker factory? The one who feasts and watches telly. Does the ice-cream have more intensive taste when on TV there is something to compare it with, ice-creamlessness? If on the other side of the screen there was somebody with chocolate, should I have the most expensive caviar to still have this luxurious feeling? If everybody gets caviar, a Mercedes and vacations in Bermudas, will we some day all of a sudden realize that a carrot, day care and sauna is enough? Tell that to the last cupful of rice. If everybody had TV and chocolate, would the paradise be not only here but everywhere? Or would at least the desperation be gone? An unemployed who is more interested in alcohol than public library, how much happier is he than the starving one? What do I use to measure the difference? Am I now getting rather gloomy? Lets get back to the point. What if I decide that the deprivation of the majority is not the result of the luxury of the minority, if the privileged are not feasting at the expense of the poor, do I still think that the poor must be helped? Does guilt arise? Does it lead into action? On whose behalf and against whom? Or do I choose pity? Maybe also charity? Unless it interferes with my mortgage payments. Pity and charity, are they results of the ill feeling that seeing a being like me starve to death causes? Or are the pity and charity a result of the wealth? Because of my wealth I can afford them. Because of my wealth I need them. Why? I'm standing on top of the mountain of my riches, and to experience the sweet dizziness of it I have to look down, and down there in the abyss there must be people starving to death. The underprivileged must be helped, do I think so because that's just how it is, automatically, or because it is in my own interest to do so, not to be faced with an angry revolt of the poor later? Is that what I'm afraid of? Or am I afraid that my indifference at the starving proves my affection to my child quite shallow, untrue? Does it that? Shallow, untrue, to whom? To me, to others or to the child? Can't the commandant of a concentration camp, in his spare time, be a good father?"



(monologue spoken in the video)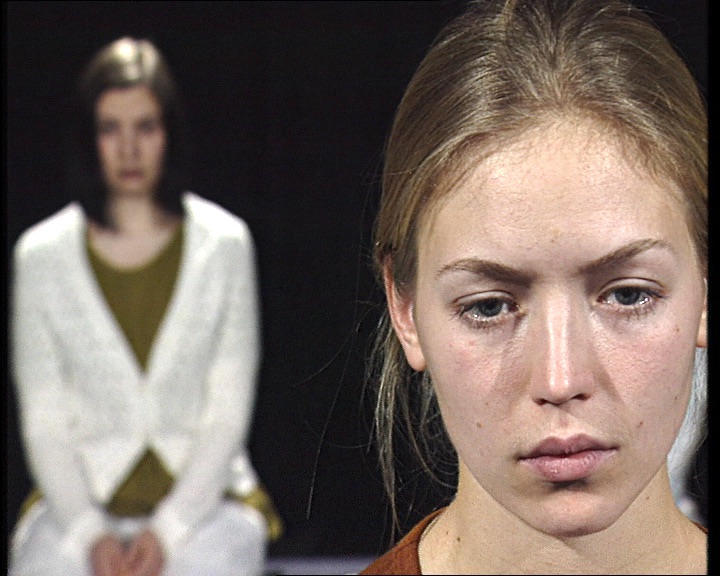 COME AND GO
A version of Samuel Beckett's short play.
(swedish version
Kommer och går
), 6´20 min, 1998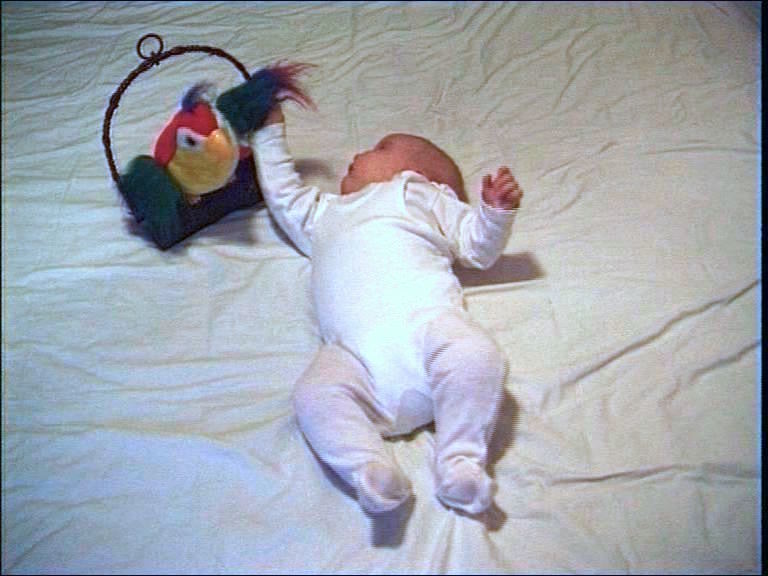 AS IT IS
(FAMILY VALUES OF A COUPLE OF MURDERERS, part three)
in collaboration with
Pirjetta Brander
5´55 min, 1997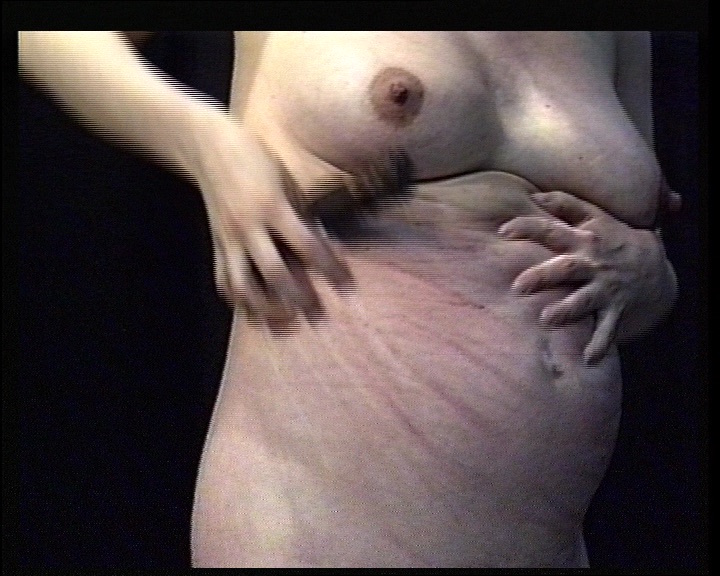 THE MOTHERHOOD ITCH
(FAMILY VALUES part two
)
a collaboration with
Pirjetta Brander
14´00 min, 1997
"We worked on the
Family Values
1 + 2 couple months before the birth of our first child. We used the special changes that took place in Pirjetta's body, our relationship and moods, as material with which to ask fundamental questions like: Why to live, why to give birth, are children our feeble bridge over the gulf of death, what are the similarities between making art and making children? Our daughter,
Aino Ursula Mäki
, was born June 15, 1997."
(Teemu Mäki, 1997)

"I studied the myths connected to pregnancy and motherhood, which were totally alien to me. The physical transformations of the female body during the pregnancy were difficult for me to accept, these works are, among other things, about coming to terms with them. The birth of a child of our own raised many questions about identity and also answered some."

(Pirjetta Brander, 1997)
SCHICKSALLSSYMPHONIE
(FAMILY VALUES part one)
in collaboration with
Pirjetta Brander
10´04 min, 1997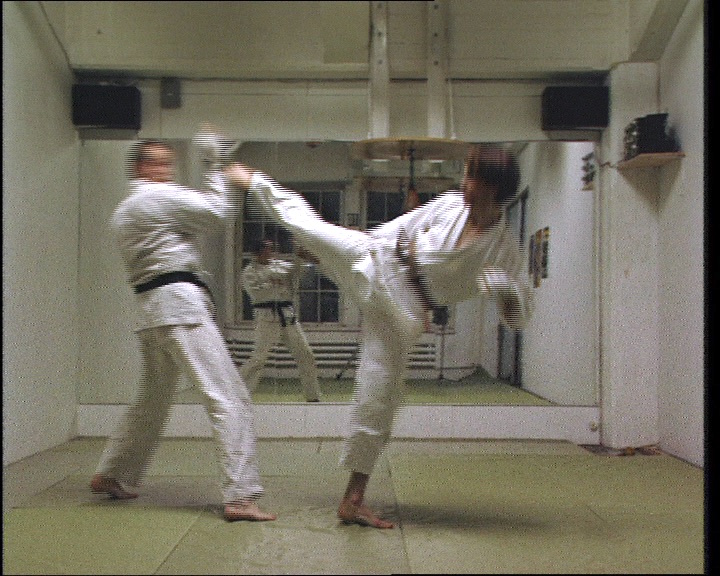 THE SACRED
DISHWATER
/

PYHÄ TISKIVESI
21'40 minutes, 1994-1996, for
YLE
(the Finnish National Broadcasting Company)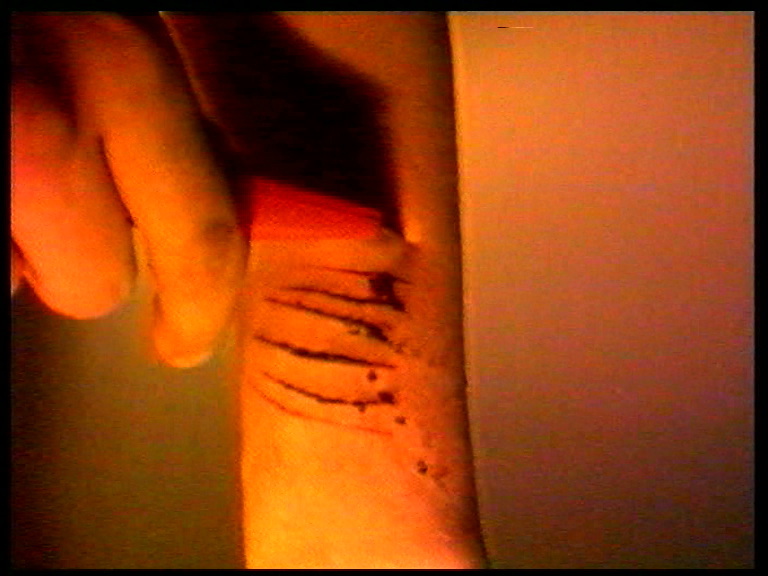 MY WAY, A WORK IN PROGRESS

90'19 minutes (11. version)
1988–1995–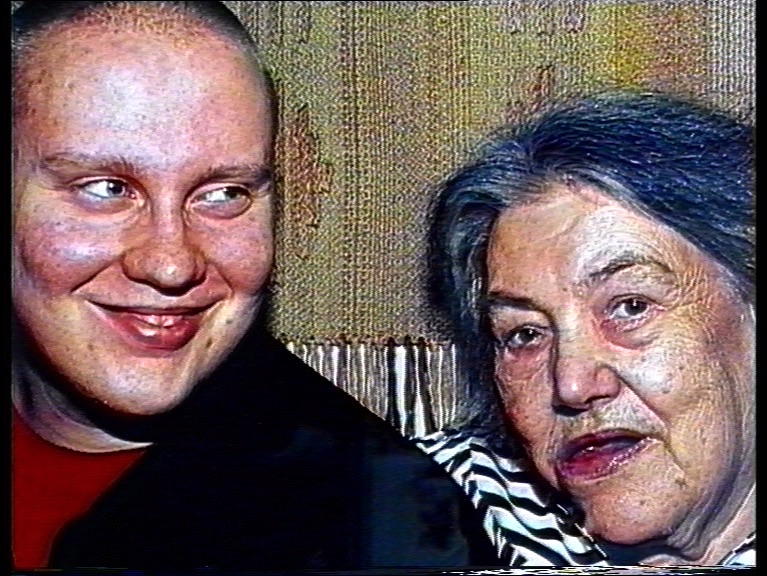 IN A DREAM I FUCKED MY GRANDMOTHER

(a love letter)
4'30 minutes, 1995
a video poem. The text is here:
In a Dream I Fucked My Grandmother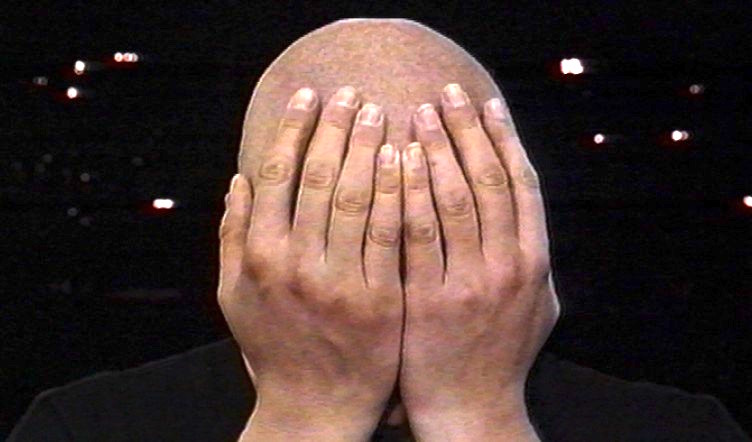 A POEM FOR JONAH
/
RUNO JOONALLE

13'00 minutes, 1995
A video poem, text of which is here:
A Poem for Jonah
/
Runo Joonalle
.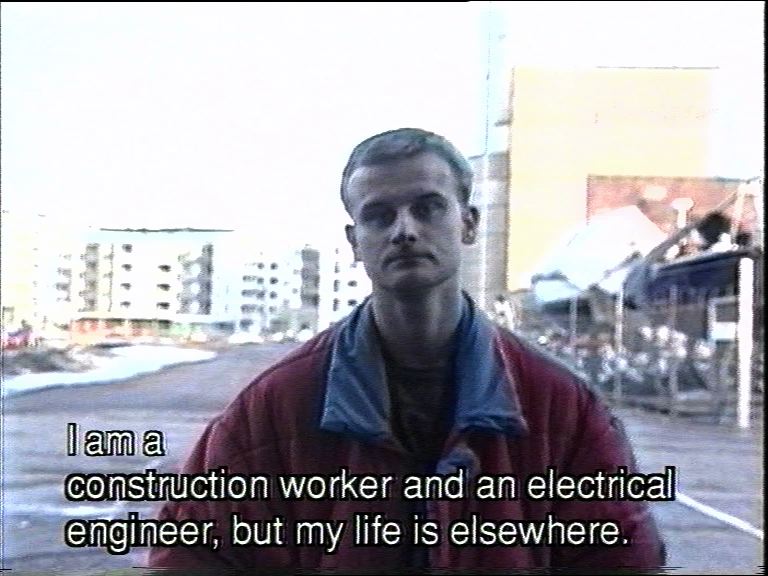 WHORE AND EXPLOIT
a work in progress, 3. version, 62'20 minutes, 1995
"...is a COMEDY in four chapters, full of excitement, fear, logic, cruelty, insanity, splendor and gentle beauty, like fairy tales that one tells to one's children, so that they would live till death, and not be killed by boredom before it, with the exception that this is a tale I told to myself."
(an adaptation of
R.W. Fassbinder
's (1945–1982) prologue to his film,
Die Dritte Generation
)


Whore and Exploit
is about whoredom, about ways in which it is possible to find one's life worth living in a society where everything has a price-tag on it and almost all jobs are forms of prostitution.
Whore and Exploit
is also about Athens, ethics, pragmatism, minimalism, humor and about the concept of brotherhood. This is the third version. The length of it was limited by U-matic cassette's maximum playing time, which was good: I was able to leave the piece to rest for a while. I will continue the work later, what I have here is a sort of skeleton and foundation, on top of which a more elaborate thing will be built. But, this being a work permanently in progress, I like to show it at this stage too, it's designed so that it's justifiable to do so.
My growing infatuation with the "work in progress"-form is based on my belief that with this open form it is possible to reach further, than when striving after the ideal of the faultless form of the "finished product". "A work in progress" as a method results in pieces that admittedly wobble, lose their composure, but it is precisely through this stuttering flow that I can accidentally express more than in my earlier, formally tight and polished works, like
The Good Friday
. Also I think that the polyphony of means that I'm developing; using very different techniques and modes of expression in a single piece, like in here, automatically results in a more fragmentary approach; that of a work permanently in progress. Another factor contributing to my infatuation with this approach is my ridiculously sincere, megalomaniac, attitude towards making works: I refuse to start another piece if it is not absolutely necessary. I believe more can be achieved when building on and constantly refining what one has made before. This attitude is comparable, if I may say so, to the approach of my true hero,
Cecil Taylor
(1932–), who has during the last 20 years been playing with the same signature themes, attacks, and combinations of instruments, still finding and organically stumbling into new things inside his own playground, which results in music, that not in spite of repetition involved in making it but perhaps because of it, is fresh every time it's heard.
This work was started at a low point of my life. That is where its indifference towards time, its slowness and insistence comes from: it is an attempt to find something, anything, that would still be of any interest to me, it just so happened that this something was in the most dismal and mundane details of life, like dishwater (in my own iconography I refer to this work as the
Dishwater Symphony
).
Whore and Exploit
is dedicated to
Kathy Acker
(1947–1997), because of its content, but its formal approach owes more not only to Cecil Taylor, but in my mind, because of its atmosphere, to
Morton Feldman
(1926–1987) and
Maria de Alvear
, so in a way it is a tribute to them too. I also wish to thank
Juha-Pekka Hotinen
(1957–) for his inspiring ideas about the importance of the "zero-intensity" as a method in art-making.
This work is chapter 5 in the ongoing series of film and video works titled
Films for Nothing
(after Samuel Beckett's prose work
Texts for nothing
). All these works are independent works, but together they are supposed to really resonate and make sense, emotionally too."

(the original info leaflet from 1995)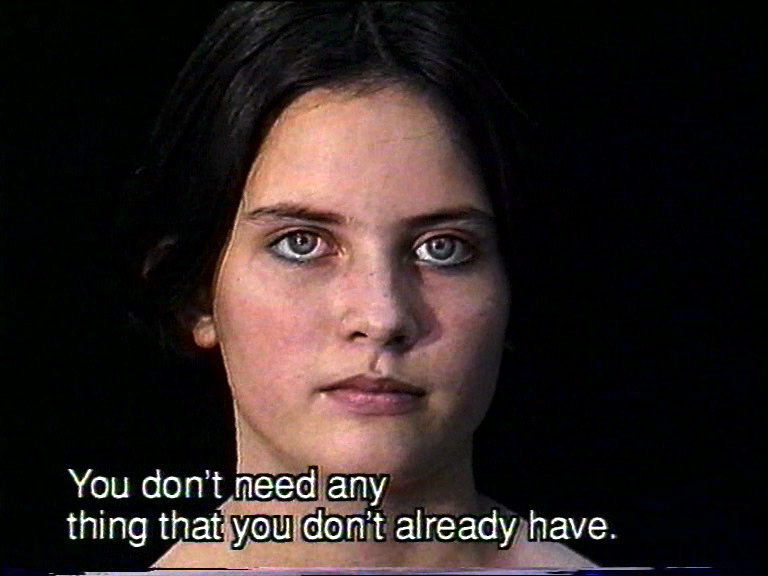 EIN TOD FOLGT DEM ANDERN
unfinished, exists as a piece of music only, 6'03 minutes, 1994–


THE SHIPPING CRATE
in collaboration with
Roi Vaara
,
from his performance tour, 17'00 minutes, 1992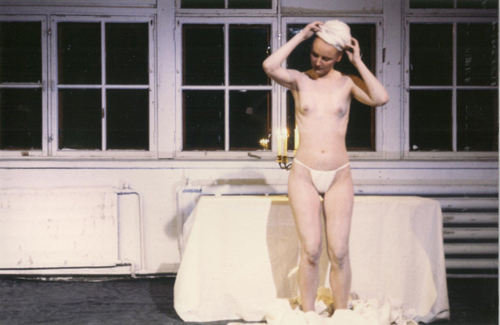 SANTA-MARIA FURIOSA
Video of a dance solo by
Sanna Kekäläinen
.
Shot on video with Ilkka Sariola, 52'00 minutes, 1991.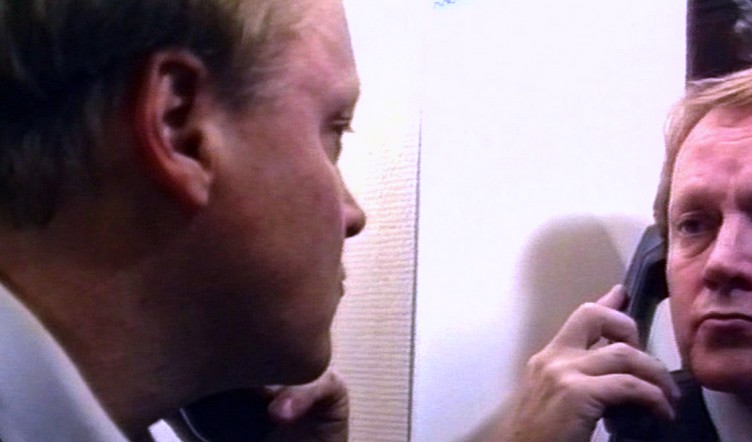 JOE
24'12 minutes
1990
Joe
is my adaptation of Samuel Beckett's
Eh, Joe
. Beckett wrote the piece (April–May 1965) for
Jack McGowran
who played Joe in the first televised version (BBC2, 4 July 1966). My video differs significantly from Beckett's script, but again I want to remark that my intention has been to be as faithful as possible to the content of the original text. Cast:
Mattijuhani Koponen
(Joe),
Penny Tuerk
(the Voice).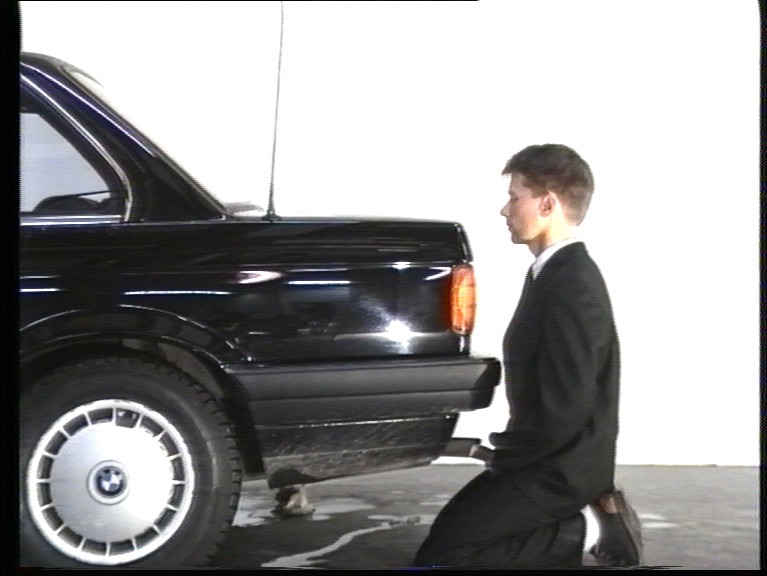 TAPIO
11'20 minutes, 1990
"Originally TAPIO was a music video to a song by one of the best rock-bands in the world,
Radiopuhelimet
. As I was trying to find a form that would make what I've understood to be the ambiguous content of the song accessible, I was forced to lengthen the piece more and more so that eventually the actual song covers only one fourth of the length of this video. TAPIO is, like my works very often are, about the only real and important problems of this Western civilization of ours. It's now 1993 and all that we need to do is to find solutions to these problems or at lest a way to live with them:
1.
The capitalist has lost the connection between his mind and his body. Property is your substitute for body. To preserve this illusory body you keep it growing, forcing it to imitate organic beings. By consumerism you safeguard yourself from physical pain and at the same time make up for it by punishing your surrogate body for its non sentience. Trying to wake it up. Imitating interaction of mind and body. Useless exorcism.
2.
What after orgy? What to do when you realize that you don't need any thing that you don't already have, that there is no reason to believe in any kind of correlation between the accumulation of your property and your mental well-being.
3.
What to do when you can no longer put your faith in the future, when you can no longer perceive the history of mankind as an evolutionary process towards a "better", "happier" and wiser society and consciousness. What to do when you can no longer take seriously any notion of god or gods, when you can only laugh at the impossible idea of you having an afterlife or even eternity to live as yourself with your present set of brains, ideas, emotions, instead dying; turning into a recycled bunch of chemicals and minerals. What to do when you can not seek comfort or the last resort in the idea of being a part of a whole greater than you are and dearer to you than yourself, when mankind is no more seen as the pinnacle and crown of evolution but just one species among others that come and go. Most definitely go. What to do when you can't even "altruistically" dedicate yourself to the preservation of life on earth, to saving the bunnies and flowers from the exterminating man. "Why can't I?", you ask - because now while you've reached the pinnacle of almost autistic egoism, you have at the same lost your belief in any kind of universal hierarchy of values, now everything is just a matter of attitudes, anything can be anything else depending on the viewpoint you choose. And more concretely; nothing is above anything else in the big picture. A man, a Cadillac, a rat, an idea, an HIV-virus, all things are equal if you have the proper perspective, that of mother Nature. When your dreams turn to shit just pass them on to your children, yes you can still do that but it doesn't give you the kind of relief it used to.
TAPIO is about the end of western civilization, and about conforming myself to it."
(original info leaflet from 1991)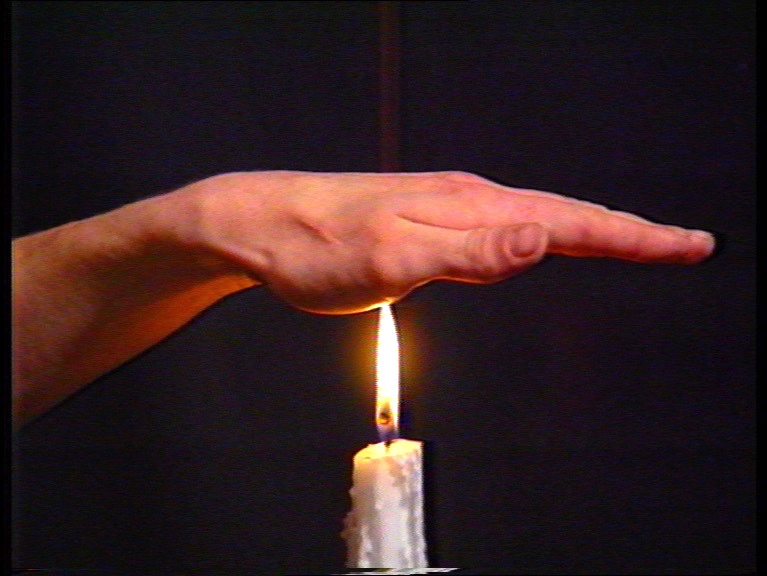 CONCEPT OF HAPPINESS
2'30 minutes
1990-1991
Based on Samuel Beckett's poem
My Way Is in the Sand Flowing.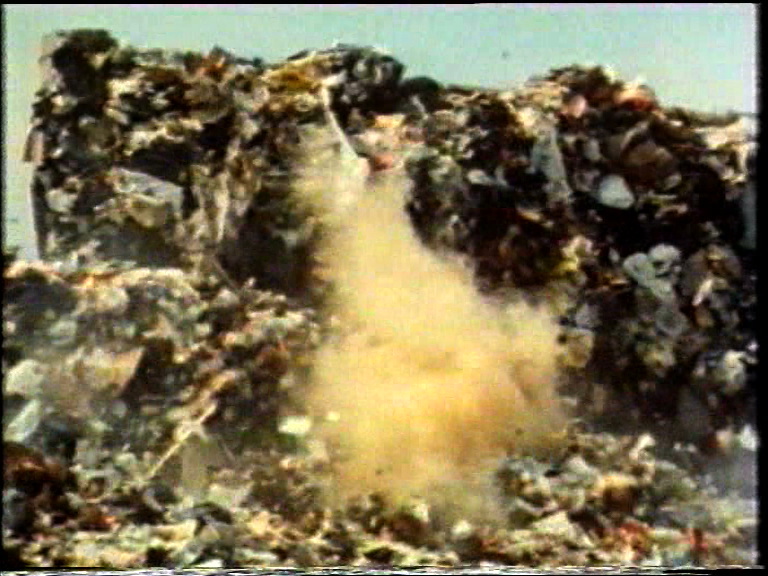 MY WAY
7'15 minutes, 1990.
Not shown anymore, replaced by the long work,
My Way, a Work in Progress.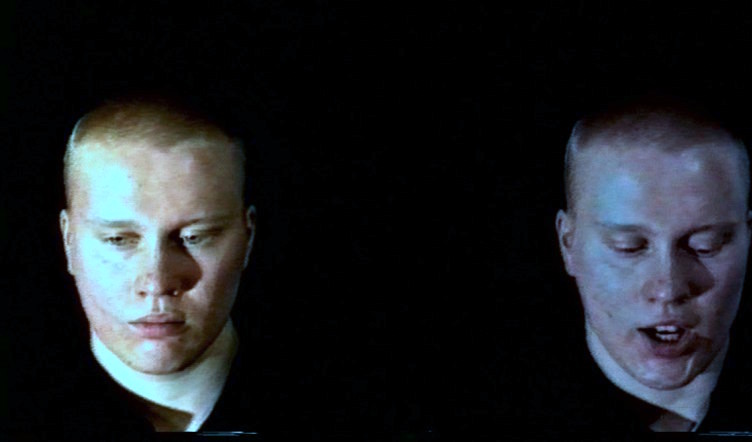 OHIO IMPROMPTU
(4. version) 12'00 minutes, 1989–1990
This is in a way an ongoing production for I have made four versions of the piece and I'll make more. These slightly different readings shall all be saved. Currently distributed is version number four.

Ohio Impromptu

is a video adaptation of Samuel Beckett's play

Ohio Impromptu

. Video version retains the original text as a whole but the setting, actor's appearance and moves have been altered to some extent in order to be as faithful as possible to the

content

of the original.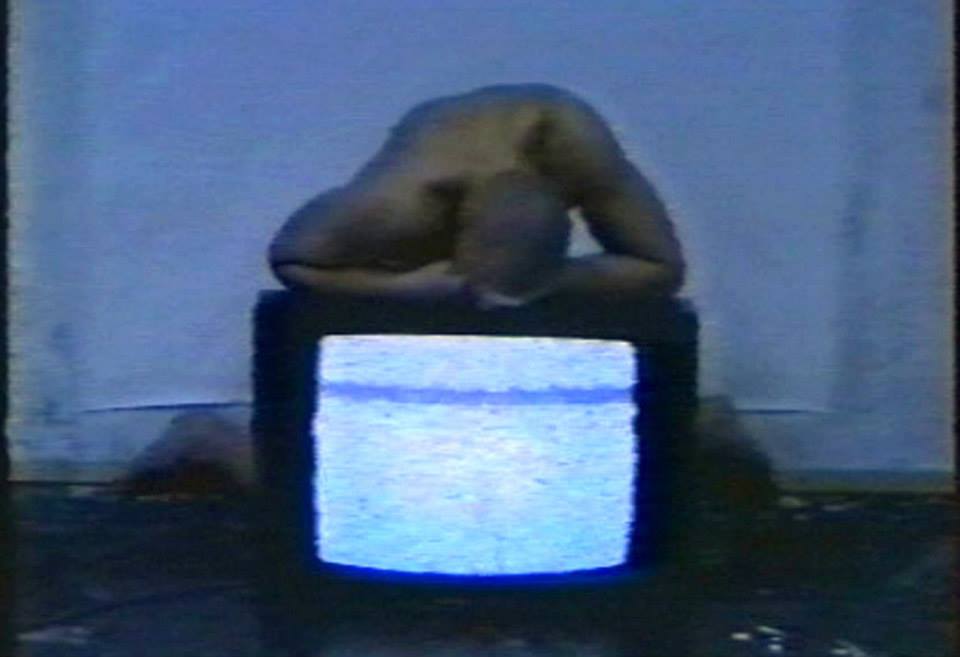 ANOVISIO TELEREXIA
A collaboration with
Ilkka Sariola
.
Actually, it's his work, his private performance.
I just gave some advice & helped in the making of the video version of it.
5'30 minutes, 1990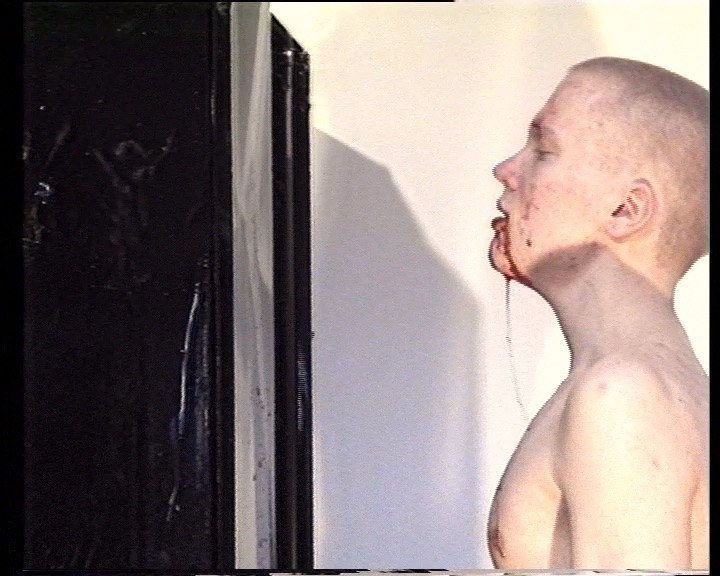 THE GOOD FRIDAY
9'10 minutes, 1989
"The main theme in
The Good Friday
is the relationship between christian faith and fascism, that is, between masochistic humanism and sadism. Fascism is an inevitable product of Christianity. Here my reasoning is very near to that of Wilhelm Reich's in his book
Die Massenpsychologie des Faschismus
.
The Good Friday
is a realization of the fact that masochism (=inverted sadism) is the last straw both for the starving, exploited and oppressed and for those who are drowning into the comfortable numbness of western middle- and upper-class culture. Western civilization is a symbiosis of humanism and sadism, the underdog masturbates with the idea of heaven and with the illusion of being ¨good¨, ¨wronged¨ and ¨morally superior to his oppressor¨. Those in power have always cherished Christianity for this very reason. There is also an interesting contradiction between the orgasmic masochism of Jesus Christ and modern humanism, humanism that has based it's concept of happiness on denial of pain. Western societies have accepted as a truism that abolishing pain and striving after more and more comfortable society will result in shared happiness. I am opposed to that. I can only laugh while watching your culture committing suicide with the "eternal" growth of consumption, growth that gives the impression of progress even though the proportions of class inequity must remain the same, because: To feel rich you need the poor and to be good you need the evil.
The Good Friday
is an edited documentary of a ritual during which I meditated on what is said above, took it in and identified myself with Jesus. I invite the pain and the pain invites me to resurrect. Finally, I need to point out that what I say in my opinion in no way "explains" my work. I believe that works of art are independent and after finishing a piece its author becomes just a member of its audience. The very justification of art's existence lies in its verbally unexplainable nature: art can not be translated into rational, verbal and logical language, into the language of the consciousness. This is why I never talk about my works. Instead, I expect my works to express themselves. However, I am occasionally, like above, when asked, willing to tell about the ideas I have in my consciousness, my thinking and ideology in general. This I do because sometimes people who have great troubles in getting a real contact with my children (=my works) find it helpful to know something about their father or maybe about the landscape where they grew in."
(from the orginal info leaflet in 1989)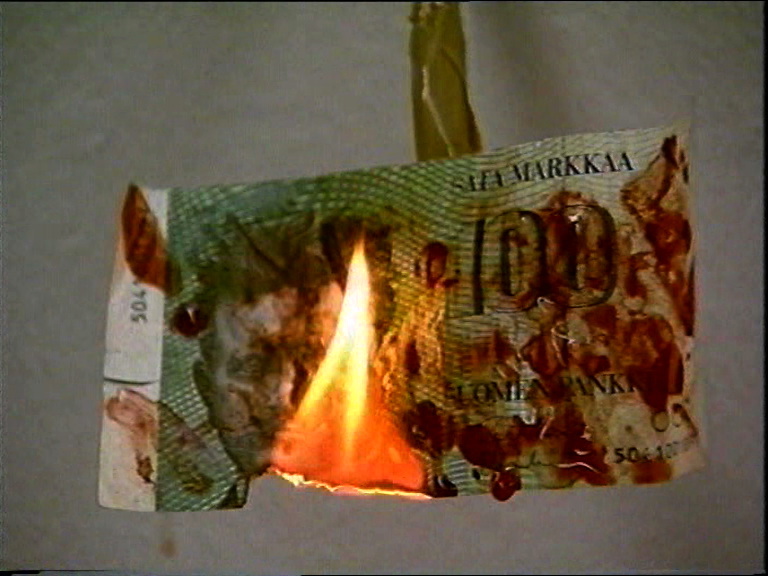 MONEY TO BURN
12'00 minutes, 1989
This is the second of the two works I don't show anymore. Sex and Death is the other one. The reason is simply that I reused all the good bits of these later in My Way, a Work in Progress. However, they are available for scholars if they want to track the roots of my stuff or my early developments:)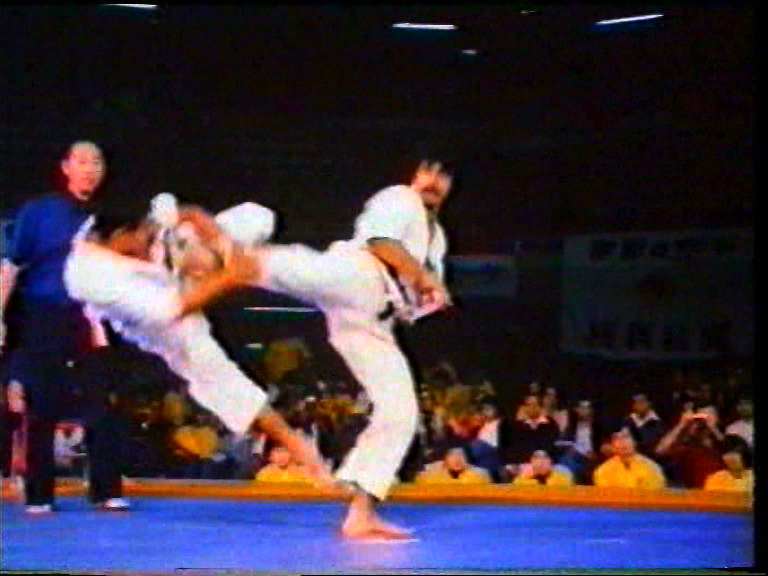 SEX AND DEATH
30'00 minutes, 1988
My first video work. This and several other early works I made while studying painting in the Academy of Fine Arts in Helsinki. With video and film I'm self-taught: I didn't take any courses in it, I just broke into the video editing facilities and learned how to use the equipment on my own. U-Matic analog tape was the pro standard back then:) Sex and Death was a very crude first step. I don't show it any more, because I used all of its good material again in My Way, a Work in Progress, many years later.

---
There are also many video recordings of my lectures or of discussions I've participated. Links to some of those are on the TEXT page (as they are closer to texts than video).

---