ALL MATTERS – NO ESCAPE
(

Kaikki vaikuttaa,

2. versio)

A dance theater piece by Teemu Mäki & Arja Tiili


| | | |
| --- | --- | --- |
| Who has power over you? | | Who are you exploiting? |

Script, choreography and direction by Teemu Mäki & Arja Tiili.
Dancers: Elina Häyrynen, Ima Iduozee, Olle Söderström, Laura Vesterinen.
Music & rapping: Kasperi Laine & ... Lights: Meri Ekola.
Premier: Body Word Festival St. Petersburg, Russia, 17.5.2011. Finnish Premier: Cultural Arena Gloria Helsinki, 20.8.2011.
Duration: 93 minutes.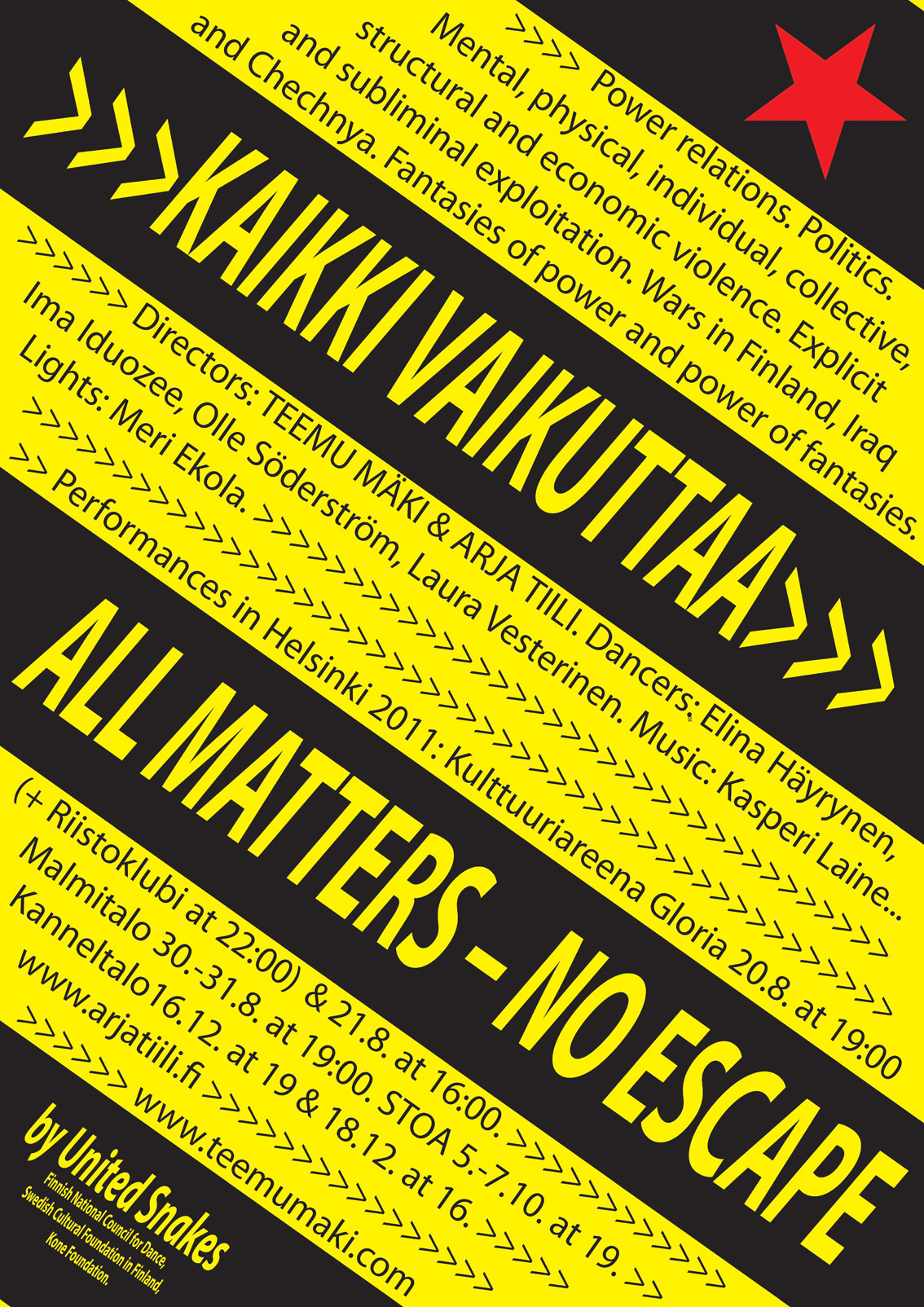 THEMES



Power relations. Politics. Mental, physical, individual, collective, structural and economic violence. Both explicit and subliminal exploitation. Wars in Finland, Iraq and Chechnya. Fantasies of power and power of fantasies. And body images and behavior that result from these themes and/or lead into them.



MATERIALS



Ballet. Breakdance. Brecht. Contemporary art dance. Documentary videos of Moscow, Helsinki and Chechnya. Interviews of a Russian speaking Estonian and of a Chechen refugee living in Finland. Drum & bass + electronica. Live rap music from Helsinki/Lappeenranta. 1970s disco. Plunderphonics. Statistics about bygone wars of Finland and Russia and about wars fought in Chechnya and Iraq today. And body images and behavior that result from all these and/or lead into them.



TECH SPECS



Duration: 93 minutes.
Personnel: Eight (= 4 dancers, a musician, a light designer and two directors).
Technical requirements: stage minimum 9 x 9 meters (preferably 15 x 15), strong sound system and a microphone, normal light system, a video projector & screen that covers all or most of the back wall of the stage.



PERSONNEL & PRODUCTION DETAILS



Script, choreography and direction by Teemu Mäki & Arja Tiili.
Dancers: Elina Häyrynen, Ima Iduozee, Olle Söderström, Laura Vesterinen.
Original music & rapping: Kasperi Laine
Additional music: Plastikman, Muslimgauze, Juhamatti, Soul Assassins, Dschinghis Khan, Squarepusher, The Geto Boys, Joe Maneri & Mat Maneri & Joe Morris, Gioachino Rossini (as plundered by Robert Lucas Pearsall) and John Oswald.
Lights: Meri Ekola.
Video: Teemu Mäki (camera Timo Bredenberg & Teemu Mäki).
Interviewees: Sofia Tarassenko, Ruslan Katayev.
Press photos: Maria Baranova, Teemu Mäki and Helinä Kuusela.
Production: Eager Minds Association / Arja Tiili
PR and marketing: Jonna Huttunen.
Financial support: Kone Foundation, Finnish National Council for Dance, Swedish Cultural Foundation in Finland, URB10 Festival, Kiasma Theatre.
Thanks: Dance Theatre Hurjaruuth, Petri Kanerva, Kaisa Niemi, Jani-Matti Salo, Theatre Academy Helsinki (Finnish Theatre Academy), Aalto University, KULKE (City of Helsinki Cultural Office).



BACKGROUND INFO





All Matters – No Escape

is the final part to the

Raw Matters Trilogy

by United Snakes. Previous parts of the trilogy dealt with the history of street dance (

Raw Matters part 1

, URB 2004) and personal memories related to dance (

Personal Matters

, URB 2008). The third and final part is a shift from personal to global.

A 45 minute

All Matters (Demo Version)

was performed at URB-festival like the previous ones, in 2010. URB is the festival of urban culture organized annually by Kiasma Theater (of Contemporary Art Museum Kiasma, Helsinki, National Gallery of Finland).

The full 93 minute version,

All Matters – No Escape

, was premiered in Erarta Art Center/Museum (www.erarta.com) as a part of the BodyWord Dance Festival (http://bodyword.spb.ru) in St. Petersburg in May 2011. The Finnish premiere takes place in Cultural Arena Gloria (http://nk.hel.fi/gloria/) in Helsinki, August 2011, and is followed by performances that continue at least until December 2011 in various cultural centers and theatres.

Teemu Mäki (1967–, Doctor of Fine Arts) is an artist and professor in Aalto University, Helsinki, Finland. He works in the realms of art, philosophy and politics with various means. As an artist he started as a painter and photographer, but has broadened his practice and is nowadays equally active also as a poet and theorist and as director of theatre, dance and video.

Arja Tiili (1972–) is a choreographer and dancer whose works have often been eclectic collisions of styles and traditions, combinations of for example contemporary art dance, breakdance and martial arts. Always with a sense of some kind of humor. She works as the artistic director and producer of United Snakes Collective and Eager Minds Association.



FEEDBACK



"Succesful dramaturgy thickens pressing feeling towards the end, when nobody in the audience surely isn't without an opinion. Those who has a voice and a possibility to talk, should in the name of humanity use their power of speech. United Snakes Group does that: they don't just speak, but they tell us, proclaim and shout at us to wake us up... ...United Snakes Group brought on Kiasma stage a strong standpoint to discussion of violence. Violence must end! Although this is just a beginning of discussion, since All Matters is a work-in-progress performance and the whole entity will be ready next summer. But: already now it raises the hair of your skin and you have a lump in your throat, when the company of artists from different fields challenges the audience to think about the usage of power." Helsingin Sanomat; Mika Saarelainen 7.8.2010, about the demo version of the piece.




PERFORMANCE DATES & LOCATIONS IN HELSINKI, AUTUMN 2011



Kulttuuriareena Gloria 20.8.2011 at 7pm (+

RIISTO-KLUBI

at 10 pm) & 21.8.2011 at 4pm.
Malmitalo 30.–31.8.2011 at 7pm.
STOA 5.–7.10.2011 at 7pm.
Kanneltalo 16.12. at 7pm and 18.12. 2011 at 4pm.



CONTACT



Arja Tiili www.arjatiili.fi
Teemu Mäki www.teemumaki.com
Main home: http://www.teemumaki.com/theater-all-matters-no-escape.html
...and a bit of additional info:
http://www.facebook.com/event.php?eid=196468830395987
...and a review in Helsingin Sanomat, 22.8.2011.