CHECHNYA (in Putinist Russia)

TŠETŠ̌ENIA (Putinin Venäjällä) ЧЕЧНЯ (В Путинскои России)
an installation (2008–2010–) by
TEEMU MÄKI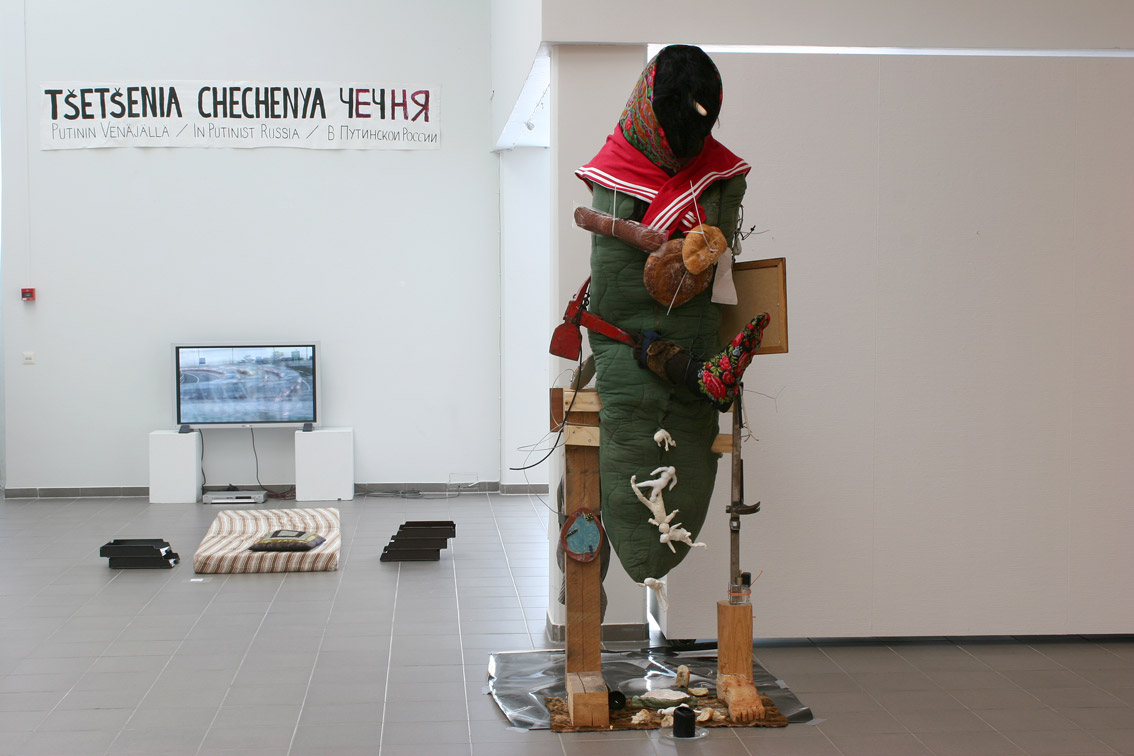 LIST OF CONTENTS:
1.


Numeroita / Numbers


text in 3 languages, 30 x 21 cm each
2.


Mother (Russia?) / Äiti (Venäjä?)


by Teemu Mäki & the students Katri Kainulainen, Salli Kari, Kristina Sedlerova and Johanna Torkkola, sculpture (wood, metal, etc.)
3.


Neon Lights in Moscow / Rush Hour in Helsinki / War in Chechnya


video loop, 10 minutes
4.


In Memoriam Anna Politkovskaya / Anna Politkovskayan muistolle


mixed media on paper, triptych, 310 x 460 cm, 2009–2010.


5.




Life in Full (Fast Food, Fast Life, No Life vs. Life in Full)


collective painting by Teemu Mäki & the students Juho Hellsten, Juha Liede and Kristina Sedlerova, oil & alkyd on wood, 244 x 366 cm, 2009


6.




Reapers

(after A.G. Venetsianov, 1780–1847) /

Niittäjät

(A.G. Venetsianovin (1780–1847) mukaan)
diptych, 2004, hard-ground etching & aquatint, 140 x 100 cm (image 90 x 63 cm) each


7.




Russian Veteran Drinks, Bleeds and Begs on Ligovsky Prospekt, St. Petersburg, Russia




/ Venäläinen sotaveteraani juo, vuotaa ja kerjää Ligovski prospektilla, Pietarissa


17.4.2008, acrylic on canvas, 60 x 90 cm


8.




Dudayev Dedication


1996/2008, collage with text and two photos, 60 x 41 cm


9.


Four small drawings:


Only the Poet Escapes... (...the Animal Rationalism of Mundane Hedonism.)

/ Vain runoilija pääsee karkuun... (...arkipäiväisen hedonismin eläimellistä rationaalisuutta.)


2003–2004, mixed media on paper, 27 x 35 cm


Julia

, mixed media on paper, 27 x 35 cm


Ursula

, mixed media on paper, 27 x 35 cm


Epäuskoinen rukoilee / Disbeliever Praying

, mixed media on paper, 27 x 35 cm
...and a copy of A.G. Venetsianov's (1780–1847) painting

Reapers.




10

.




The Civil War Goes On / Kansalaissota jatkuu


an essay about the Finnish Civil War (1918) / essee Suomen kansalaissodasta (1918)


11.




Love Is Flying So High a Human Mind Can Not Reach It /

Rakkaus liitää ihmismielen tavoittamattomissa




12.




Pondering Mattress

/

Pohtimispatja


+
A wall of sketches by my students for an upcoming collective painting about Chechnya.

*

The next version of the installation will be expanded with a few added features:

– Videotaped interviews of retired Chechnyan rebel fighters, now living in exile in Finland.
– A collective oil painting dealing with Russian oligarchy and patriotism.
– Water color portrait of a Chechen mother


---
These overviews & details of the installation are from

Kipu / Pain

exhibition

,

Kerava City Art Museum, Finland, summer of 2010: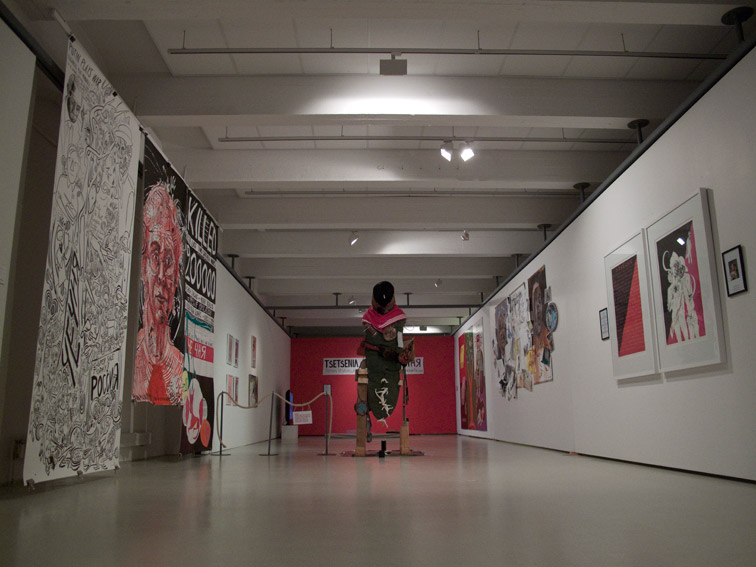 Overview.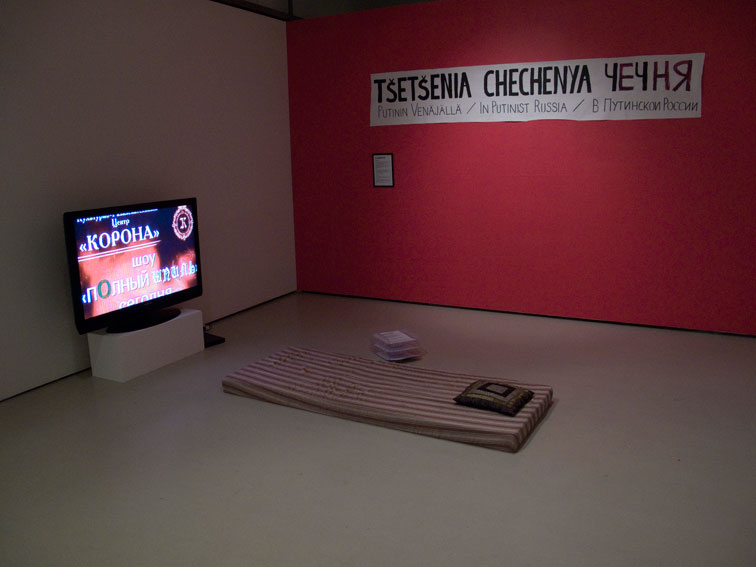 Video loop, title banner & mattress for reading, viewing and meditation.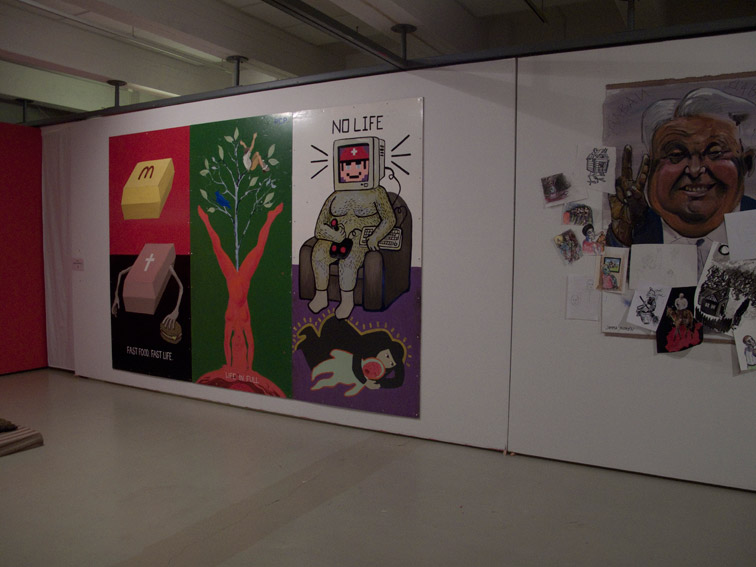 Fast Food, Fast Life, No Life

-triptych, collective painting by my students.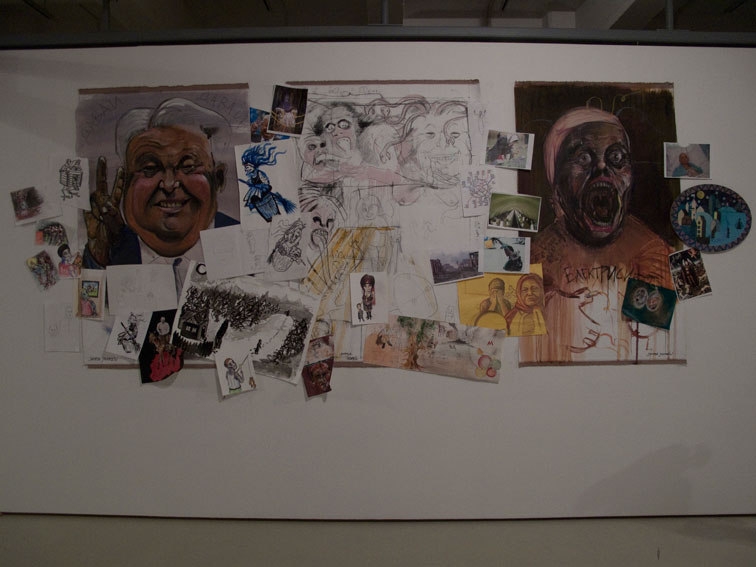 The wall of Chechnya-related sketches by my students, for an upcoming collective painting.

The following overviews & details are from

Helsinki Biennale 2008

(Design Museum Helsinki, Finland) and from my solo show

How to Live? / Why to Live

(Kemi Art Museum, Finland, 2010):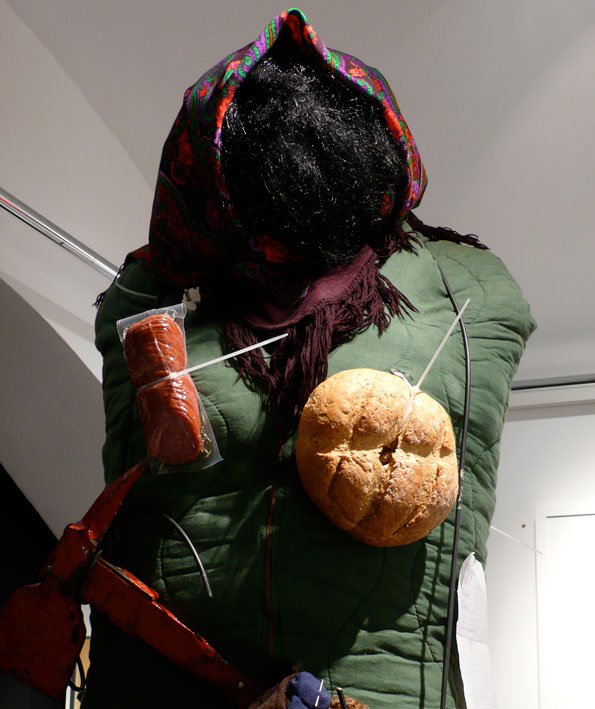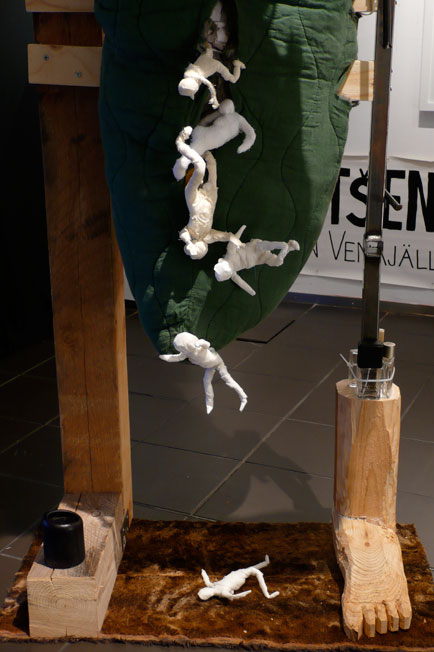 Mother (Russia?) / Äiti (Venäjä?)


by Teemu Mäki & the students Katri Kainulainen, Salli Kari, Kristina Sedlerova and Johanna Torkkola, sculpture (wood, metal, etc.)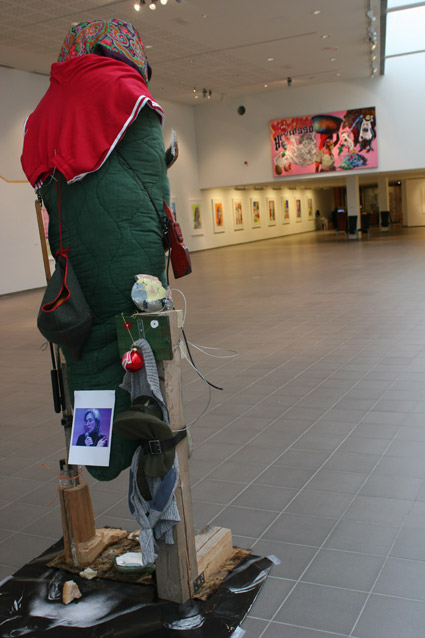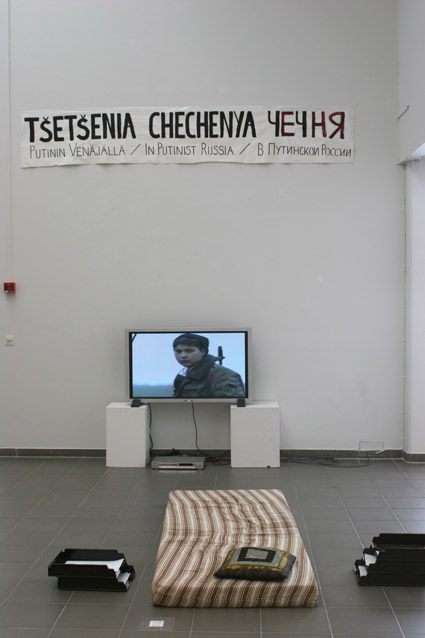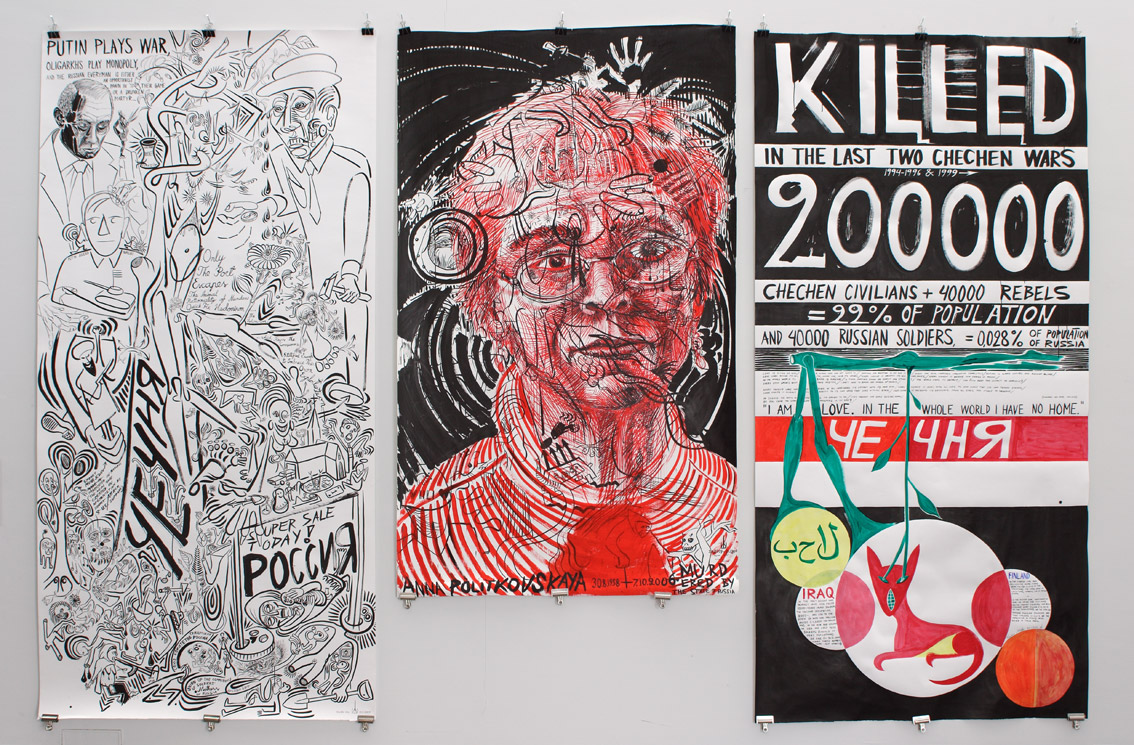 In Memoriam Anna Politkovskaya / Anna Politkovskajan muistolle


mixed media on paper, triptych, 310 x 460 cm, 2009–2010.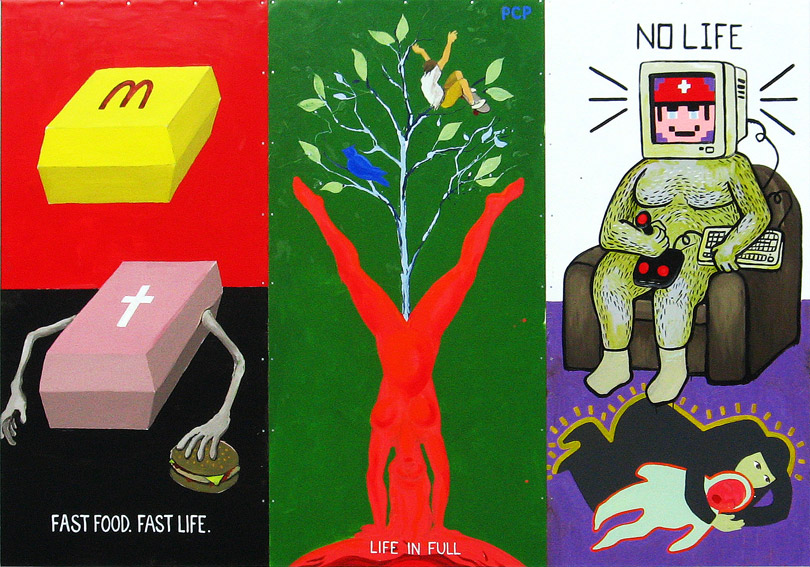 Life in Full (Fast Food, Fast Life, No Life vs. Life in Full)


collective painting by Teemu Mäki & the students Juho Hellsten, Juha Liede and Kristina Sedlerova, oil & alkyd on wood, 244 x 366 cm, 2009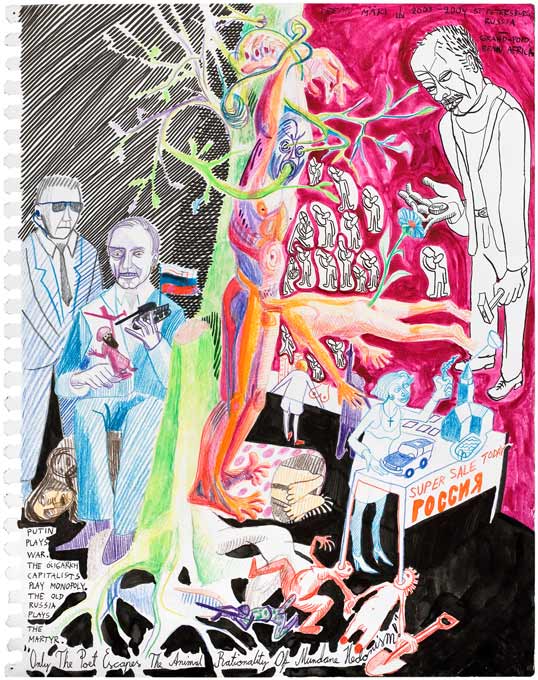 Only the Poet Escapes... (...the Animal Rationalism of Mundane Hedonism.)

/ Vain runoilija pääsee karkuun... (...arkipäiväisen hedonismin eläimellistä rationaalisuutta.)


2003–2004, mixed media on paper, 27 x 35 cm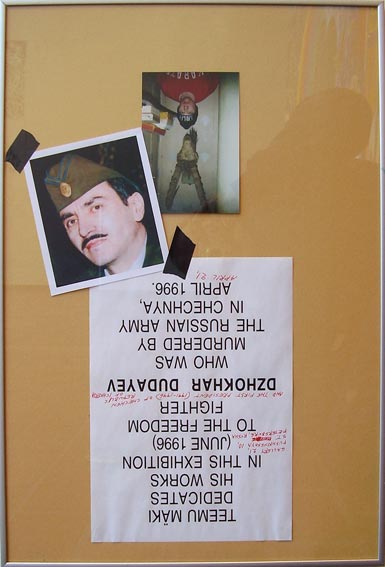 Dudayev Dedication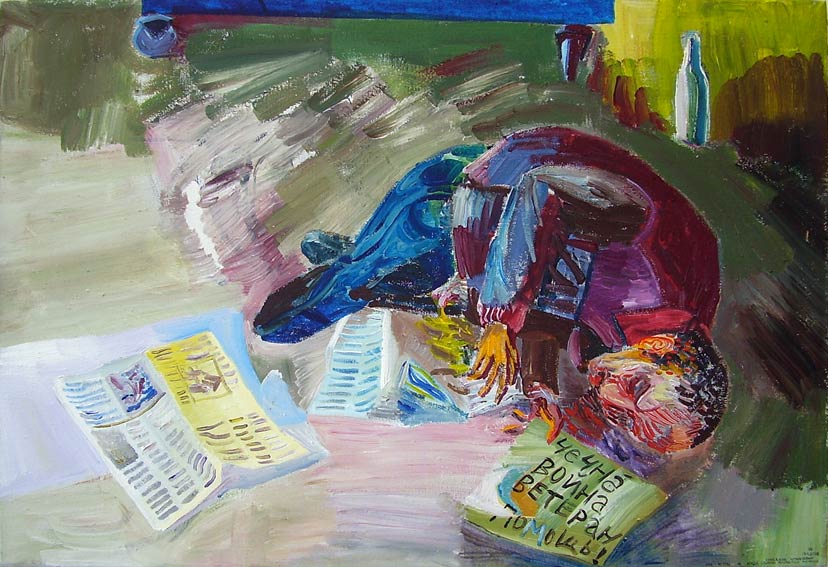 Russian Veteran Drinks, Bleeds and Begs on Ligovsky Prospekt, St. Petersburg, Russia




/ Venäläinen sotaveteraani juo, vuotaa ja kerjää Ligovski prospektilla, Pietarissa


17.4.2008, acrylic on canvas, 60 x 90 cm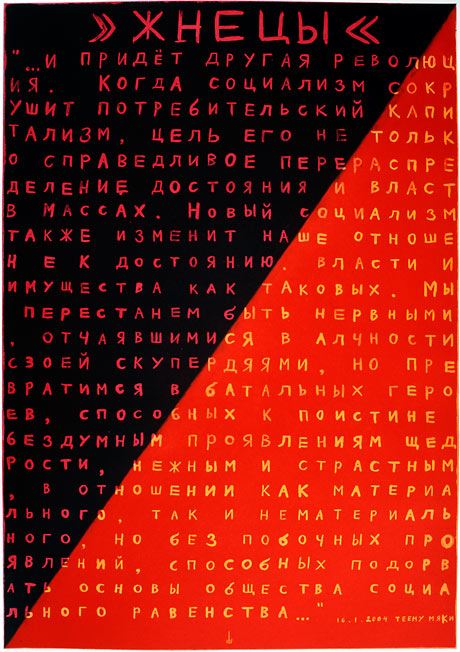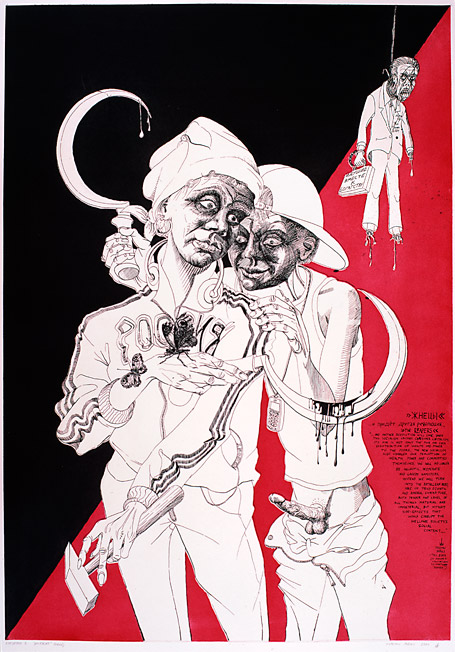 Reapers

(after A.G. Venetsianov, 1780–1847) /

Niittäjät

(A.G. Venetsianovin (1780–1847) mukaan)
diptych, 2004, hard-ground etching & aquatint, 140 x 100 cm (image 90 x 63 cm) each


THE REAPERS

"...and another revolution will come. When this socialism crushes consumer capitalism, its aim is not only the fair and even redistribution of wealth and power to the people. The new socialism also changes our perception of wealth, power and commodities themselves. We will no longer be neurotic, desperate, greedy hamsters but we'll turn into the Bataillean hero, able of truly ecstatic and amoral expenditure, both tender and cruel, of all things material and immaterial, but without side-effects that would corrupt the wellfare society's social contract..."

Teemu Mäki 2.10.2003, a text for the painting (and for the etching/aquatint diptych)

THE REAPERS

, which is a version of a Russian classic: A.G. Venetsianov's (1780–1847) painting Reapers (1820s, The Russian Museum, St. Petersburg, Russia).

NIITTÄJÄT



"...ja seuraava vallankumous tulee. Kun tämä sosialismi murskaa kulutuskapitalismin, sen päämäärä ei ole vain vaurauden ja vallan reilu tasajako ihmisten kesken, sillä uusi sosialismi muuttaa myös käsityksemme vauraudesta, vallasta ja hyödykkeistä sinänsä. Emme ole enää neuroottisia, epätoivoisen ahneita hamstereita ja keräilijöitä, vaan meistä tulee Georges Bataillen tarkoittama sankari, joka pystyy ekstaattiseen ja amoraaliseen tuhlaukseen, materiaalisten ja immateriaalisten asioiden tuhlaukseen, hellään ja julmaan tuhlaukseen, mutta ilman sivuvaikutuksia, jotka mädättäisivät hyvinvointiyhteiskunnan yhteiskuntasopimuksen..."

Teemu Mäki, 2.10.2003, teksti maalaukseen (ja grafiikka-diptyykkiin)

NIITTÄJÄT

, joka on versio eräästä venäläisestä klassikosta, A.G. Venetsianovin (1780–1847) maalauksesta Niittäjät (1820-luvulta, Venäläisen museon kokoelmat, Pietari).

«ЖНЕЦЫ»

«... и придёт другая революция. Когда социализм сокрушит потребительский капитализм, цель его не только справедливое перераспределение достояния и власти в массах. Новый социализм также изменит наше отношение к достоянию, власти и имущества как таковых. Мы перестанем быть нервными, отчаявшимися в алчности своей скупердяями, но превратимся в батальных героев, способных к поистине бездумным проявлениям щедрости, нежным и страстным, в отношении как материального, так и нематериального, но без побочных проявлений, способных подорвать основы общества социального равенства…»

ТЕЕМУ МЯКИ, 2.10.2003: ТЕКСТ К КАРТИНЕ «ЖНЕЦЫ»
Это моя версия картины русского классика: «Жнецы» А.Г. Венецианова (1780–1847),
выставленной в Русском музее, в Санкт-Петербурге.